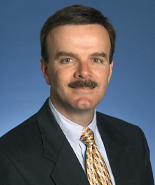 Ward A. Wilson
'80, B.S., Science, High Point University, High Point, North Carolina; '86, M.S., Meteorology & Oceanography, Naval Post Graduate School, Monterey, CA; 2000, MBA, Executive MBA Program, San Diego State University, San Diego, CA
Director, San Diego Field Office
Boeing Defense, Space, and Security
BIOGRAPHY
Ward Wilson is the Director of the San Diego Field Office for Boeing Defense, Space, and Security. He works with a dedicated field marketing team to provide local interface with defense customers in the San Diego area and coordinates dialogue between Boeing's various business units and defense customers for the full line of seabed to space products that Defense Space, and Security Systems develops and produces.
A native of Baltimore, MD, Ward is a former Naval Surface Warfare Officer. His 20-year Naval Career included various surface warfare assignments as Operations, Combat Systems and Executive Officer tours aboard guided missile fast frigates (FFGs). He also has Expeditionary and Joint Warfare experience serving as a staff officer with both Commander SEVENTH Fleet and Commander US Navy Central Command. As the Fleet Operations Officer for Commander THIRD Fleet, he served aboard the Sea Based Battle Lab (USS CORONADO) assisting in originating the Fleet Battle Experiment series of exercises and expanding international diesel submarine ASW exercises. As an ASW sub-specialist, his knowledge of undersea warfare C4ISR systems is extensive. Shore duty included an Oceanography instructor tour at the US Naval Academy and as Deputy Chief Engineer for the Intelligence, Surveillance and Reconnaissance (ISR) Directorate at the Space & Naval Warfare Systems Command which included the IUSS, SURTASS, and ADS program offices.
Following his naval career, Ward joined Boeing in 2000 where he served in the San Diego Field Office. He has worked a variety of space based communications and surveillance programs, unmanned air, surface, and undersea platform programs, airborne ASW and tactical communications programs. He is an active Board member for the San Diego Military Advisory Council, Anchor Scholarship Foundation, the Board of Advisors for Workshops for Warriors, and also a member of AFCEA, NDIA, Navy League, and SNA.
He has an undergraduate degree from High Point University and graduate degrees from Naval Postgraduate School and San Diego State University
SDSU Affiliations:
SDSU College of Engineering - Advisory Board Member
Through Boeing Global Engagement grants, has supported the Troops to Engineers program at SDSU.