SDSU Engineering Professor Bruce Urquhart ('78) Inspires Fellow Alum to Give to Student Veterans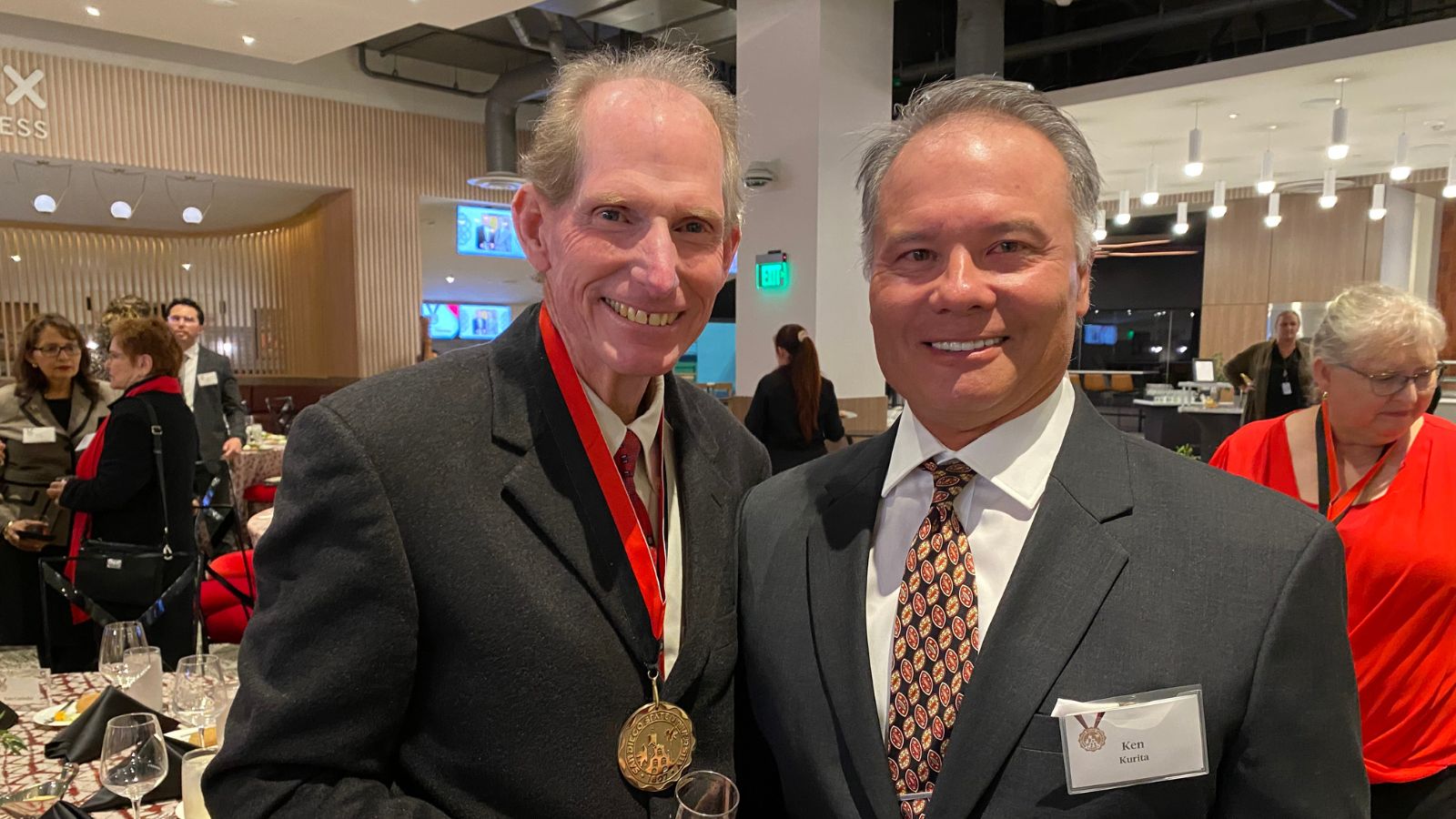 San Diego State University civil engineering professor Bruce Urquhart '78 shares the gift of giving by encouraging others to give.
After meeting as transfer students and working together part-time at a hardware store, Urquhart and Ken Kurita '78 quickly became lifelong friends, spanning over 40 years.
"While our areas of study differed (geography for Bruce and business for Ken), our drive and hard-working values quickly created a bond and we remained friends throughout our years at SDSU and stayed close after graduation," said Urquhart.
After graduating from SDSU, Urquhart interned with the California Department of Transportation which resulted in a shift to civil engineering, working in land surveying. After gaining expertise in this sector, Urquhart decided to share his knowledge with students and since 1992, he teaches the "Surveying for Civil Engineers" class as an adjunct professor at SDSU.
Urquhart and Kurita both credit their education at SDSU for helping open the doors to their eventual careers, but say they also understand that for many others, attending college can feel like a financially unattainable goal.
When it came time to consider estate plans, Urquhart and his wife, Jacqueline, who both have a profound respect for veterans, decided that they wanted to help further their education, and established an endowed scholarship through a planned gift to SDSU. "We strongly believe that there is no better way to give back than to help remove this financial barrier for future students," said Urquhart.
After hearing this, Kurita and his wife, Theresa, were inspired – they immediately decided to follow suit, setting up their own endowed scholarship through a planned gift for future veteran students at Fowler College of Business. "Our decision to leave legacy gifts to San Diego State University was further solidified when Bruce was diagnosed with a fatal type of brain cancer in 2009 and was told to get his affairs in order," said Kurita. Thankfully, Urquhart was re-diagnosed with a treatable form of melanoma and is doing well today. But this experience, Kurita said, made them acutely aware of not taking their lives for granted. "Making a positive impact on others is a driving force in our lives and we realized we could make a lasting difference through our legacy gifts."
Both Urquhart and Kurita are both grateful for our time at SDSU and, say they can't think of a better way to extend their appreciation to the university than leaving a gift in our estate plans. "We like knowing that our gifts will benefit SDSU students well beyond our lifetimes and we hope that we will also inspire those students to pay it forward one day as well, said Urquhart and Kurita.
"We see a bright future for SDSU. We've watched the university continue to grow and adapt, opening doors for students to successful career opportunities. We hope that, with our help, and that of our fellow alumni, these opportunities will continue to be available for generations of students to come."
The following story was redacted from a giving letter written by Kurita and Urquhart, then adapted by Melinda Sevilla.
The College of Engineering is grateful to all those who provide much needed philanthropic support. If you or anyone you know is interested in supporting the College of Engineering, please contact Kate Carinder, Senior Director of Development for the College of Engineering at: [email protected]