Master's Student Earns Inaugural MSAE Outstanding Graduate Student Award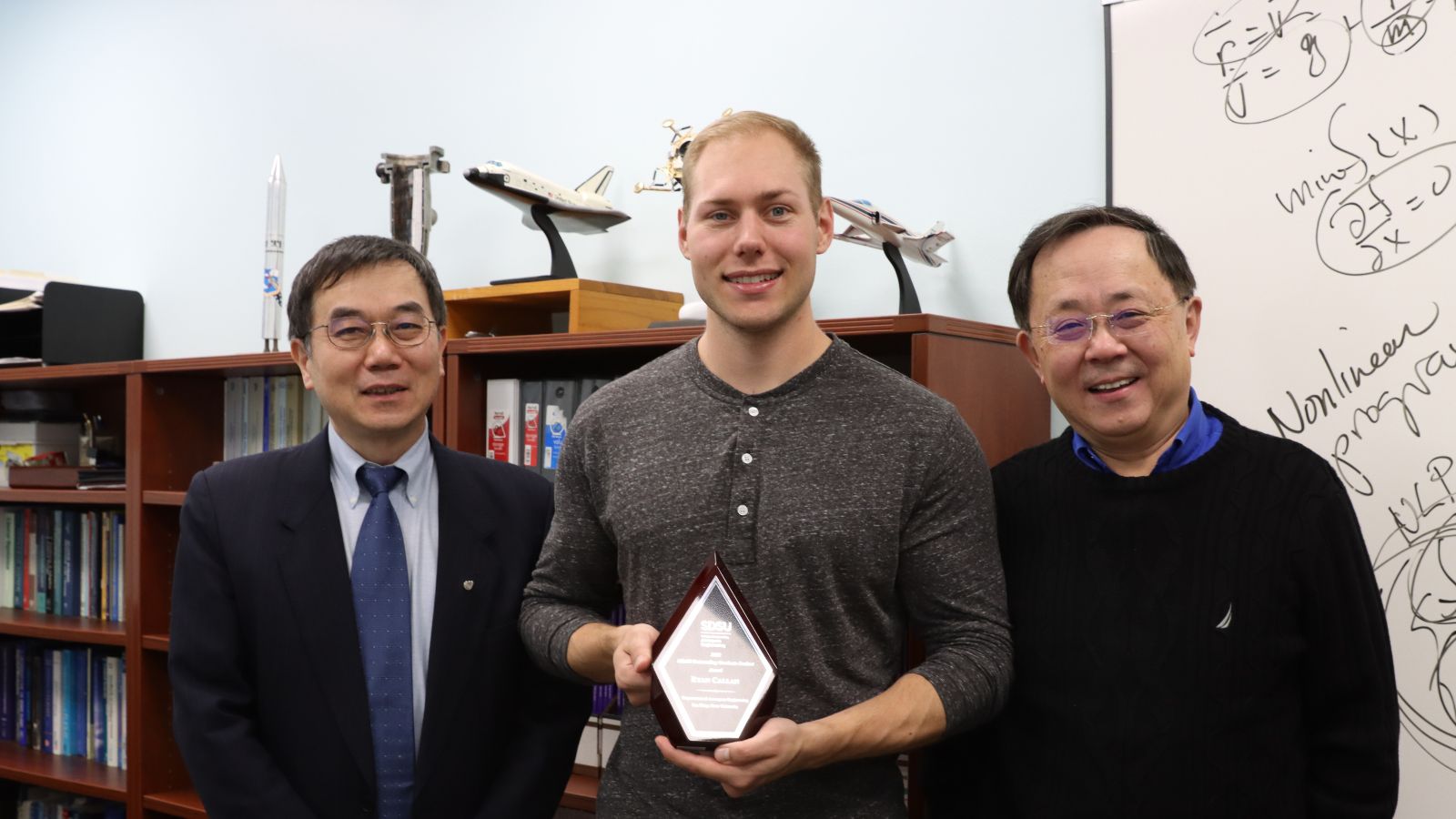 The sky's no longer the limit for Master of Science in Aerospace Engineering graduate Ryan Callan.

Callan, who graduated in December 2022, has been awarded the inaugural Master of Science (MS) in Aerospace Engineering Outstanding Graduate Student Award.
Nominated by aerospace engineering professor Xiaofeng Liu, Callan is recognized for his excellent scholarship. This includes his recent co-authorship with department chair Ping Lu to an article in a premier scholarly journal in the field of his research. All these achievements are nothing short of extraordinary by any measure, said Liu.
A US Space Force Officer, Callan came to SDSU from the University of Texas at Austin, where he participated in Air Force ROTC and commissioned into the US Space Force. Once at SDSU, Callan completed his MS coursework in only two semesters with a 4.0 GPA. Liu said he carried out his MS research, thesis writing, and defense with flying colors in a span of six months.
"During the course of the research, he thought carefully and critically, executed quickly and effectively. Not only did he have to learn new technical methods, but also a programming language he has never used before to implement the algorithm he was developing," said Liu.
Department chair Ping Lu concurs: "Ryan is so pleasant to work with. My only gripe is that I wish that Ryan did not always address me as "Sir". But given that he is a US Space Force Officer, all is forgiven," joked Lu, referring to Callan's military background.

Callan said he is honored and humbled to receive the award, crediting the department for its support: "The AE Department faculty and staff work incessantly to provide excellent opportunities for students, both educationally and professionally, which build lasting impacts," said Callan.
"Receiving this award personally demonstrates that the sky is no longer the limit; there are new frontiers to explore in all aspects of Aerospace Engineering. I am proud to learn and grow among students and professionals who strive to excel academically, think critically, and defy complacency."
Following graduation, Callan will attend Undergraduate Space Training (UST) at Vandenburg SFB, and subsequently, Space Warfighter course in Colorado Springs, CO. "The knowledge and skills that I developed during my time at SDSU will undoubtedly provide a strong foundation for service in the US Space Force as a space operations officer," said Callan.
As for the future, the new award opens doors for future MSAE graduates to be recognized for their stellar contributions to the field of aerospace engineering and to society at large. "I am excited to read about and learn from the achievements of future recipients," said Callan.