SHPE Founding Members Reunited after Forty Years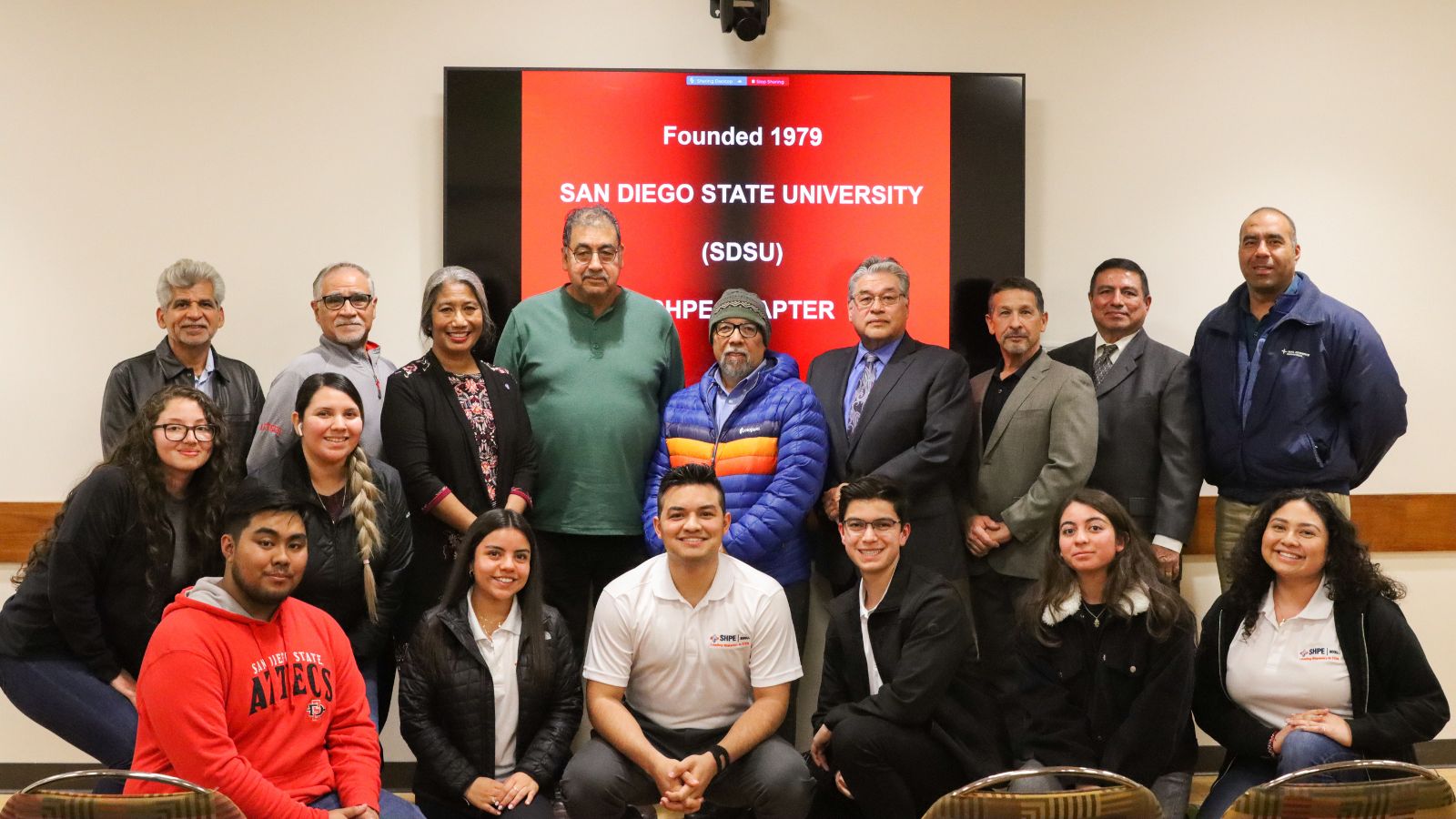 "Hola, SHPE familia!"
That's the sign-on of any internal communications coming from San Diego State University's Society of Hispanic Professional Engineers, or SHPE. As an organization centered around bringing together Latinx/Hispanic students with interests in STEM fields, the family greeting is exemplified in many ways. As both current student chapters and alumni, SHPE members give back to their communities often – "Many of our members go on to work for internships and job opportunities that come from SHPE SDSU specifically," said current chapter president Jaime Cervantes. But their recent club general business meeting (GBM) proved just how strong the SHPE familia stands.
This month's meeting featured special guests to celebrate the chapter's 40th anniversary: the original five founding board members. The original board, which founded the organization at SDSU in the early 1980s, met, spoke with, and shared wisdom with current members. Along with other notable SHPE alumni in attendance, the founding members spoke upon their experience starting the chapter, and how SHPE has continued to be an important part of their lives and their careers as engineers.
The room was beaming with energy and excitement as original SHPE members arrived, with many attendees who hadn't seen each other in years. Several founding members – Robert Espinosa, Jorge Rosales, Jesse Sandoval, Gil Montes, Paz Gomez, Juan Garcia, José Gomez and Ricardo Reyes – recounted their desire for an academic and professional club for Hispanic engineers and spoke about the early days of SHPE SDSU. Espinosa, the SDSU chapter's inaugural president, provided leadership in gathering the former board members to attend the meeting. "We built the first file of midterm and final exam study guides for the student chapter," said Reyes of the resource that is used by SHPE members even today. Each member then went through their postgraduate experiences as engineers.
The founding members, including Reyes, credited their early success and skills to the organization: "SHPE helped me build my leadership abilities and leadership skills. I was able to secure my first summer internship from SHPE." The members told inspiring stories and gave advice to the current eager students. Montes encouraged students to get to know themselves and to understand what they want out of their futures: "Stick to your principles, and reach high," he said.
Growing from ten members to 50, SHPE has continued to grow and provide valuable experience for Latinx/Hispanic SDSU students in Engineering. "It was a great experience to meet the founders of SHPE SDSU and learn about their experiences in the club! I'm proud to be part of a legacy of great engineers," said current president Cervantes.
The founding members of SHPE couldn't agree more. "The truth is, you're going to change the world," said the alumni group to the current students. "Engineers change the world".
View full photo album of the event here.