Engineering Students Win Big at SDSU Student Research Symposium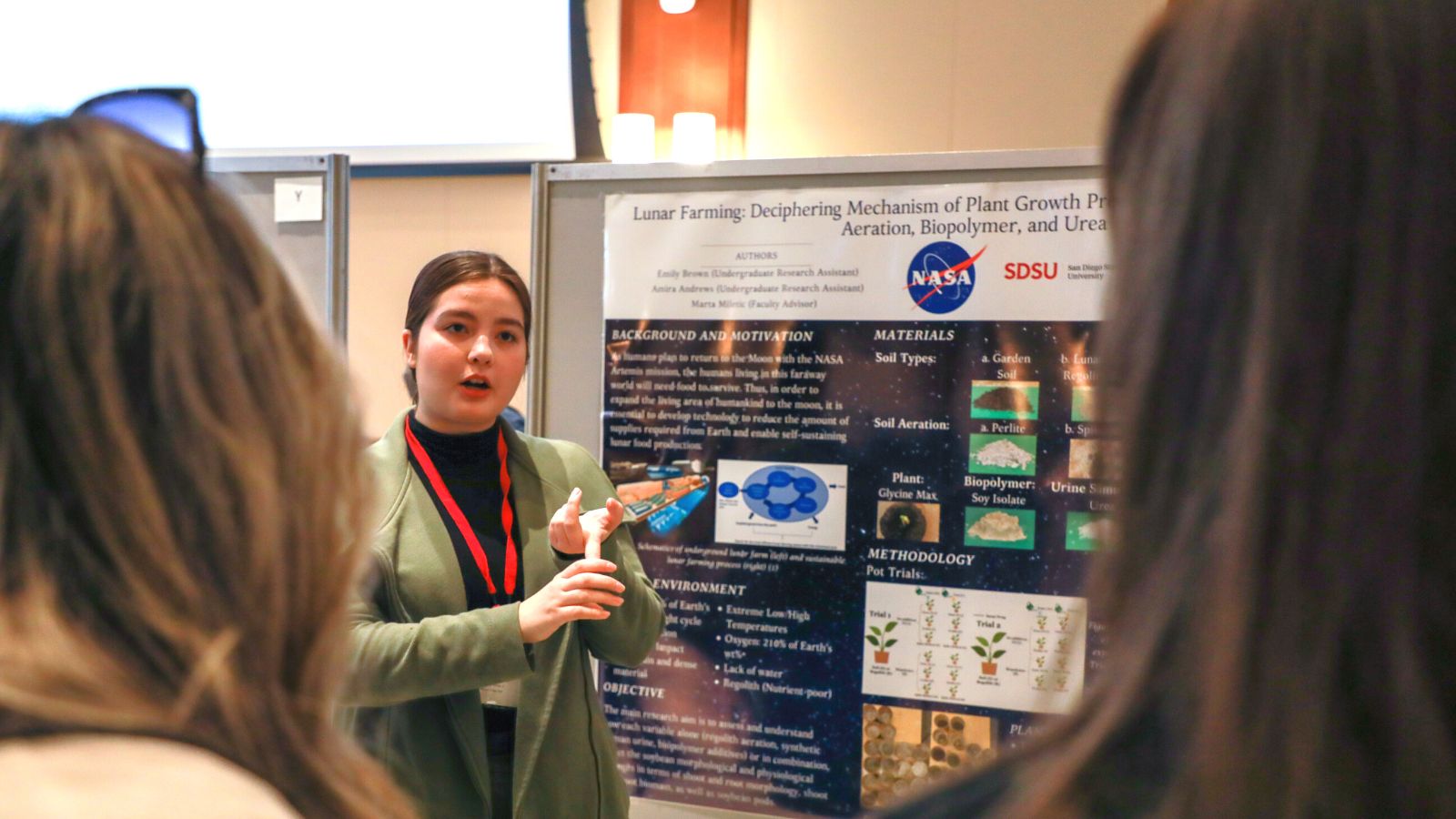 Eight engineering students were recognized with awards at the 2023 SDSU Student Research Symposium, also known as S3.

The 16th annual SDSU Student Symposium, or S3, showcased more than 370 San Diego State University undergraduate and graduate students' discoveries, innovations and artistic works in the Conrad Prebys Aztec Student Union on March 3-4.
"What I like about S3 is that it's not about one specific discipline, so after I present, I'm able to walk around and learn about other areas of study and projects across campus," said mechanical engineering senior and poster presenter Kathryn Tippett, whose favorite projects were at the performing arts session.
Faculty, staff, alumni and members of the San Diego research community judged student presentations for their originality and how well they demonstrated expertise in their area of interest.
"It is one of the best opportunities for our students to learn how to synthesize and present their research projects to the general public," said Karen May-Newman, professor of mechanical engineering and executive director of STEM teaching, learning and innovation.
Based on the judges' evaluations, seventy projects were selected as the most excellent across dozens of categories. The award-winning students received between $250 and $500 for a total of nearly $20,000 in prize money. The full list of award winners is posted online.
Ten students selected as President's Award winners, including one engineering student, now advance to the 37th annual California State University Student Research Competition to be held at SDSU April 28-29.
Read more about the Engineering projects awarded below.
Women in Engineering Award
Lilith Astete Vasquez
Mentor: Natalie Mladenov
Response of antibiotic resistant bacteria during anammox treatment of pretreated municipal wastewater and landfill leachate
Women in Engineering Award
Aina Narvasa
Mentor: Marta Miletic
Numerical and Experimental Investigation of Extreme Lunar Conditions on the Physical and Mechanical Properties of Lunar Construction Materials
Women in Engineering Award
Britton Mennie
Mentor: Karen May-Newman
Helical flow in the aortic arch during mechanical circulatory support
Undergraduate Research Excellence Award
Nawaf Alneami
Mentor: Marta Miletic
Nature-based solutions for enhancing soil hydro-mechanical properties
Provost's Award: Engineering
Chaztyn Pangelina
Mentor: Karen May-Newman
The effect of increasing heart rate on intermittent aortic valve opening during LVAD
Provost's Award: Engineering
Mark Smeets
Mentor: George Youssef
The Impact Efficacy of Density-graded Polyurea Foams
Dean's Award: Engineering
Zachary Conte
Mentor: Karen May-Newman
Role of Aortic Tissue Stiffness in LV-LVAD Mechanics
Dean's Award: Engineering
Emily Brown
Mentor: Marta Miletic
Lunar Farming: Mechanism of Plant Growth Promotion in Lunar Regolith by Biopolymer and Urea Fertilizer
President's Award*
Scarlett Alexander
Mentor: John Abraham
Life Cycle Assessment: Cradle-to-Grave Carbon Dioxide Emissions of BEV and PHEV
*Advances to the 37th annual California State University Student Research Competition

For a full list of SDSU Research Symposium winners, click here.
View photo album of our Engineering students here.
View SDSU NewsCenter story and video here.