Advance your Career with a Degree in the Field of Engineering
Since its inception in 1961, the College of Engineering has evolved into a top choice for serious engineering students and researchers from all over the globe. We deliver broad-spectrum, world-class engineering education, combined with practical research experience. Our students can choose among seven bachelor's, and a number of master's and joint doctoral degree programs.
We're dedicated to innovative education, discovery, and dissemination of knowledge. We equip our students to think with international perspective, to design solutions that meet human and societal needs, and to create economic value that helps sustain the San Diego region and beyond.
We're committed to inventing a better future, both for the San Diego region, a hot spot of innovation and technology, and for the global community we all share. That's why we maintain close relationships with San Diego industry that result in extensive partnerships, internships and placement opportunities for our students.
10:00am-11:30am, Parma Payne Goodall Alumni Center, registration is requested
Faculty
The College of Engineering is excited to welcome four new Faculty for Fall 2017.


Dr. Sam Kassegne and Center for Sensorimotor Neural Engineering (CSNE) research collaborators report on the superior electrochemical properties of a new electrode material fabricated from glassy carbon.
Dr. Kaveh Akbari Hamed is working with robots to help powered prosthetic limbs walk more efficiently.
Alumni
This Aztec works in Boeing's Huntsville Design Center in Alabama.


This Aztec is leading the fight to eliminate preventable hospitable deaths.



Alan Dulgeroff ('92) intends to make alumni engagement a top priority.
Students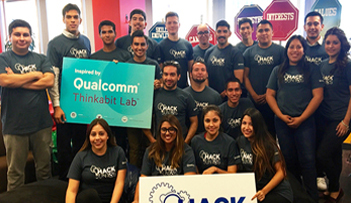 The SDSU Society of Hispanic Professional Engineers mentors Hispanic students interested in the STEM fields.
The Aztec Baja SAE team designs, builds, and races an off-road buggy each year.


The Women in Transportation Seminar focuses on advancing networking for young women in the transportation industry.