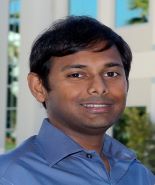 Nandan Das
Ph.D., Electrical and Electronics Engineering, UC San Diego, 2013
M.S., Electrical and Elecrtonics Engineering, Stanford University, 1999
B.S., Electrical and Electronics Engineering, Harvey Mudd College, 1998
CTO
Viasat Inc.
Biography
Dr. Das is currently the CTO of Viasat's Government Fixed/Nomadic and Land Mobile Broadband SATCOM business (GC4). He has over 20 years of experience in the industry mostly in the PHY/MAC design of Ka-band high throughput satellite systems. He has a wide range of interests including digital communication, statistical signal processing and estimation theory, optimization, implementation of communication systems on hardware etc. Nandan has considerable experience leading diverse multi location teams and was one of the initial members of the team that won the Guinness World Record for the highest capacity satellite system. He has been awarded multiple patents, been awarded the best paper prize at IWSSC, and his work has been cited over 300 times. He is also a member of the faculty at UCSD where he teaches a graduate course on Signal Processing in the Wireless Embedded Systems program.
Dr. Das obtained his PhD from UCSD, a MSEE from Stanford University and a BS in Engineering from Harvey Mudd College.