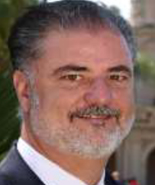 Stephen Patrick Doyle
'80, B.S., Civil Engineering, San Diego State University, San Diego, CA; Juris Doctorate, University of San Diego, San Diego, CA
President/Owner
Sandy Point Properties, LLC
BIOGRAPHY
Mr. Doyle is currently president and owner of Sandy Point Properties an infill builder/developer operating within San Diego County. He joined Brookfield homes in early 1993 and was named president of the San Diego and Riverside division in January 1996, the position he held until February of 2013.
Mr. Doyle earned a bachelor's degree in engineering from San Diego State University in 1980 and a Juris Doctorate in 1984 from the University of San Diego, School of Law. He is a Registered Civil Engineer and admitted into the Federal and California State Bar.
Mr. Doyle has worked in the construction and development industry for his entire career. He started with Nasland Engineering, a general civil engineering company in 1978. Upon graduation from law school, Mr. Doyle joined Pardee Construction Company as vice president, project manager, and assistant legal counsel. Mr. Doyle then joined The Baldwin Company as vice president of facility planning and engineering, a position he held until 1993.
Mr. Doyle was elected president of the San Diego Building Industry Association in 2001. He served as president for the California Building Industry Association in 2005. He has served as a board member for the Greater San Diego Chamber of Commerce and continues to serve on the Civil Engineering Advisory Board and the College of Engineering Advisory Board at SDSU. Mr. Doyle joined the University of San Diego School of Law Board of Visitors in 2007 and the Burnham-Moores Center for Real Estate in 2012. Mr. Doyle joined The Campanile Foundation Board in 2017 and serves as the Chair of the Engineering and Interdisciplinary Sciences Complex Fundraising Campaign.
He is a Past President of the Board of the Construction Industry Alliance for the City of Hope, having raised over $2 million for cancer research in a 5 year period. Mr. Doyle was named to the California Building Industry Hall of Fame in March 2007 and received the SDSU Outstanding College of Engineering Alumni Award, earning him the coveted "Monty" for 2008. He was inducted into the San Diego Building Industry Hall of Fame in February of 2009, and named a Distinguished Alumni for the University of San Diego School of Law in 2011. In 2013, Steve and his wife were awarded the Walk the Talk Award from Just in Time for Foster Youth for their work with former foster children. Mr. Doyle received the Outstanding USO Partner Award for his efforts to refurbish the Downtown Service Center in 2015.
Steve and Lynne Doyle reside in San Diego and have three grown children.
SDSU Affiliations:
College of Engineering – Chair, Dean's Advisory Board
Advisory Board Member, CCEE Department at San Diego State University
Advisory Board Member, CEM at San Diego State University
Trustee, The Campanile Foundation
Chair, The EIS Fundraising Campaign
Other Affiliations:
Board Member, California Building Industry Association
Board Member, University of San Diego, School of Law Board of Visitors
Member, Budget and Finance Committee, Board of Visitors
Exec Com, Burnham-Moores Center for Real Estate (BMCRE) at the University of San Diego
Mentor for Grad Students of BMCRE
Member, California Building Industry Hall of Fame
Member, San Diego Building Industry Hall of Fame
Vice President of the Optimists Club of Point Loma
Volunteer, Just in Time for Foster Youth
Past Board Member, Regional Targets Advisory Committee (RTAC), California Air Resources Board
Past Board Member, SDG&E Citizens Advisory Board
Past Chair, California Homebuilding Foundation
Past President, San Diego Building Industry Association
Past President, California Building Industry Association
Past Board Member, Greater San Diego Chamber of Commerce
Past President, Board of the Construction Industry Alliance for the City of Hope