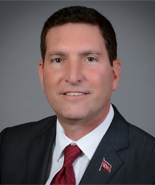 Alan Dulgeroff
'18, Master of Engineering, San Diego State University, San Diego, CA
'92 B.S. Electrical Engineering with a minor in Computer Science San Diego State University, San Diego, CA
Director of Electric System Planning
San Diego Gas and Electric (SDG&E)
BIOGRAPHY
Alan Dulgeroff is the Director of Electric System Planning for San Diego Gas and Electric (SDG&E). He previously held director positions in Strategic Planning and Business Optimization, Human Resources and Labor Relations, Information Technology, and Asset Management and Smart Grid. In over twenty years at SDG&E, Mr. Dulgeroff has served in leadership and technical positions in strategy and finance, HR, IT, and nine areas of electric and gas transmission and distribution engineering, construction, operations, and maintenance.

Mr. Dulgeroff is a graduate of San Diego State University with a Master of Engineering and Bachelor of Science in Electrical Engineering with a minor in Computer Science. He is a member and past Chairman of the IEEE Power Engineering Society San Diego Chapter and graduate of LEAD San Diego 2010. At SDSU, Mr. Dulgeroff is a past President of the Alumni Board and serves on the Electrical and Computer Engineering Department, Career Center, and Leadership Advisory Boards and is chair of The Campanile Foundation's Audit Committee and serves on the Executive Committee. In 2018, he was awarded the SDSU Alumni Award of Distinction.

Mr. Dulgeroff actively mentors engineers and accounting and finance professionals, serves on Sempra Energy professional development committees, and is the past chair of the SDG&E engineering advisory group. He was honored by the San Diego County Engineering Council with the 2012 Outstanding Leadership in Engineering Outreach award and by Sempra Energy as a 2013 Diversity Innovation award finalist. Mr. Dulgeroff is licensed in California as a Professional Engineer in Electrical Engineering.
SDSU Affiliations:
SDSU Engineering Dean's Advisory Board
Past President of the Alumni Board
The Campanile Foundation: Executive Committee, Chair of the Audit Committee
Electrical and Computer Engineering Department Advisory Board
Leadership Advisory Board
Career Center Advisory Board
Zip Launchpad Advisory Board
Football and Men's Basketball Season Ticket holder
2018 SDSU Alumni Award of Distinction recipient