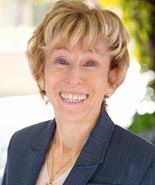 Georgia Griffiths
President/CEO
G2 Software Systems, Inc.
BIOGRAPHY
Before forming her own company in 1989, Ms. Griffiths worked for both private industry and for government support contractors through TRW, Bendix, Solar Turbines, and Compusec in areas including technical, management, product management, and marketing. Her revolutionary "Tea Leaf Algorithm," published in Communication of ACM, July 1987, afforded algorithms with error-detection and increased speed.
After sixteen years in the computer engineering industry, Ms. Griffiths launched G2 Software Systems Inc (G2), to fill an essential niche by providing customers with a full range of high quality engineering experts with exceptional qualifications. G2 maintains one of the lowest indirect structures in the industry, passing those savings on to its customers. That Ms. Griffiths and G2 have been providing outstanding support services to the Department of Defense and commercial companies for thirty years is exemplified by the following Awards:
Multiple Subcontractor of the Year awards from SAIC and CSC
Women Who Mean Business awards (San Diego Business Journal)
2008 Alumna of Distinction – Calif. State University Long Beach
2013 Georgia Griffiths, CEO of the Year – Large Business (SDBJ)
2014 Georgia Griffiths, Athena San Diego's Pinnacle Award to the individual in Technology recognized for exemplary service to her community
2016 WID Plankholder Award
2017 San Diego Magazine Woman of The Year
Ms. Griffiths was amongst the first organizers for WID in San Diego, and was the Scholarship Chairman who organized the endowment of the WID scholarship. Ms Griffiths commitment to women in STEM is exemplified by her own three endowed scholarships at CSULB and San Diego State. She also funded a lecture hall and computer lab in the CSULB's new STEM facility.
Her community activities have included serving on the CSULB 49er Foundation Board, San Diego Humane Society board and the Wild Animal Park Conservation Innovation Council. Ms. Griffiths flies public benefits missions as an Angel Flight Command Pilot. She also serves on the Board of Directors for Angel Flight West.
SDSU Affiliations:
College of Engineering – Advisory Board Member