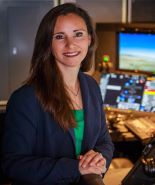 Claudia Mowery
'16 Executive Perspective for Scientists and Engineers Program (EPSE), UC San Diego
'04 Systems Engineering Certificate, Caltech
'01 B.S. Mechanical Engineering, San Diego State University
VP - USAF Programs
General Atomics Aeronautical Systems, Inc.

biography
Ms. Mowery earned her Mechanical Engineering degree from San Diego State University with the distinguished honor of "Summa Cum Laude" and Valedictorian of the College of Engineering in 2001. She also holds a Systems Engineering Certificate from the California Institute of Technology in Pasadena, CA in 2004 and is a graduate from the University of California San Diego's Executive Perspective for Scientists and Engineers Program (EPSE) in 2016. Ms. Mowery is Vice President of USAF programs, responsible for managing all domestic MQ-9A USAF, AFSOC, and ANG programs. She joined GA-ASI in January 2007 and has been in unmanned aircraft industry since 2001. Prior to 2007, Ms. Mowery worked at Northrop Grumman where she held various positions as an Engineer: Mass Properties Engineer, Mechanical Subsystems Engineer (fuel, bleed-air, hydraulic), Environmental Control Systems Engineer, and Guidance Navigation and controls Engineer on the RQ-4A and RQ-4B Global Hawk program for 5 years.
Ms. Mowery was recently a finalist in Aviation Week's Prime Production category for producing the most MQ-9A aircraft in a calendar year – 37 total aircraft – during a worldwide pandemic (2021), recognized by AIAA for Outstanding Contribution to Aerospace Engineering (2019), and named San Diego Magazine's Rising Star (2018).