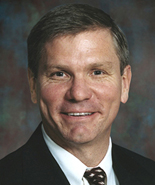 Scott Winship
'85, B.S. Aerospace Engineering, San Diego, State University, San Diego, CA
Sector Vice President, Advanced Programs
Northrop Grumman Aerospace Systems
BIOGRAPHY
Scott Winship is sector vice president of Advanced Programs at Northrop Grumman Aerospace Systems, a premier provider of military aircraft, autonomous and space systems and next-generation solutions to assist our customers worldwide, preserve freedom and advance human discovery.
In this role, Winship oversees strategic business unit Scaled Composites; implementation and development of our combat aviation strategy; and strategic programs and initiatives including the Unmanned Combat Air System, Directed Energy, U.S. Navy Tern unmanned air system and the Advanced Mission Management program.
Most recently, Winship was vice president of Strategy and New Business Growth, where he led the sector's strategic development initiatives. Prior to that, he was vice president of Advanced Air Warfare Development, responsible for enterprisewide strategic integration and pursuit of new opportunities in the former Strategic Systems division portfolio.
Previous roles include: vice president and program lead executive for restricted advanced program pursuits, where he led Northrop Grumman's pursuit, capture and proposal strategy development for the Presidential Helicopter Replacement and the Combat Rescue Helicopter programs; primary focal point for domestic and international rotorcraft new business initiatives; vice president and program manager through concept definition, proposal, build and final design development for the X-47B Navy Unmanned Combat Air System Carrier Demonstration Program (Navy UCAS-D); and program director who led the Fire Scout Vertical Take-off and Landing Unmanned Aerial Vehicle Program through first flight and into production.
Prior to joining Northrop Grumman in 2002, Winship served as deputy product manager for the Joint Strike Fighter X-35B STOVL program at Lockheed Martin Aeronautical Company's Skunk Works division. He held a variety of positions of increasing responsibility while at Lockheed Martin, including X-35 Flight Sciences integrated product team (IPT) leader, X-35 Air Vehicle IPT leader and X-35B Integrated Flight Propulsion Control IPT leader. Winship also served on the YF-22/F-22 program as Wind Tunnel Test IPT leader, during which time he helped develop the thrust vectoring control on the YF-22 program.
Winship earned a bachelor's degree in aerospace engineering from San Diego State University and was a naval aviator. His engineering honors include Employee of the Year for the F-22 program (1994); "Gold Skunk" Award for Leadership (1999); Lockheed Martin Aerostar Award for Leadership (2001); Teamwork (2002); and the American Institute of Aeronautics and Astronautics Engineer of the Year
(2002).
Northrop Grumman is a leading global security company providing innovative systems, products and solutions in autonomous systems, cyber, C4ISR, strike, and logistics and modernization to government and commercial customers worldwide. Please visit www.northropgrumman.com for more information.