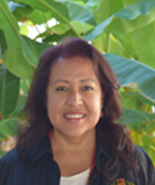 Theresa Garcia
Assistant Dean of Engineering for Student Affairs
Phone: (619) 594-5807
Email: [email protected]
M/C: 1326
Office: E-200
BIOGRAPHY
Theresa M. Garcia, native of San Diego, CA and Aztec for life received a B.S. in Business Administration from San Diego State University (SDSU) in 1991 and a Master of Arts in Educational Leadership with an emphasis in Student Affairs in May 2009, also from SDSU. She has worked in Higher Education for the last 25 years (serving all 25 years in the College of Engineering) and has been the Assistant Dean since January of 2014. In fall of 2015 she developed the first ever Peer Advising Center for Engineering Students with funds from the President's Leadership Fund. Prior to her role as Assistant Dean, she Directed the Undergraduate level MESA (Mathematics, Engineering and Science Achievement) Program at SDSU from 1997 to 2014 assisting students with their professional and personal growth along with their academic success in preparing them for the STEM industry and and/or for graduate school. She has received over $3 million in grants and contracts from the National Science Foundation (NSF), Office of Naval Research (ONR), MESA, GTE foundation, Atkins Foundation, and the California Space Grant Consortium (funded by NASA) as well as scholarship funds and other donations from local companies who have been longtime supporters of MESA such as SONY, QUALCOMM, Solar Turbines, Pratt & Whitney, Raytheon, Northrop Grumman, Rick Engineering and others.
Assistant Dean Garcia has presented at several national and local conferences. She was instrumental in forming the San Diego MESA Alliance (SDMA) in the mid1990s, a statewide model of intersegmental MESA programs covering students from grades 6 through 16. She was Co-PI of an NSF grant in which she collaborated with community college partners of the SDMA at San Diego City Community College and Southwestern Community College. She also served as a Co-PI on the Education, Outreach, and Diversity Team of the Center for Sensorimotor Neural Engineering (CSNE); an NSF funded Engineering Research Center collaboratively with UW and MIT. She is also currently Co-PI on a recently awarded ONR grant: Advancing Navy STEM Workforce through Education and Research (ANSWER), a collaborative effort among the College of Engineering, the Graduate Division, local industry and the SDMA, that trains incoming transfer students in research methods to strengthen their opportunity to engage in research or internships. She has been recognized for her efforts by the SDSU community with a 2006 "Top 25 Award"- given by former SDSU President, Dr. Weber and by NAMEPA with the "Outstanding MEP Award" in 2007.
When not working, Mrs. Garcia likes to spend time with her family. Her favorite activity is camping with her husband of 29 years and their three sons who are all now studying at varying levels in the California Higher Education System.