Engineering Professor Alicia Kinoshita Appointed SDSU Director of Undergraduate Research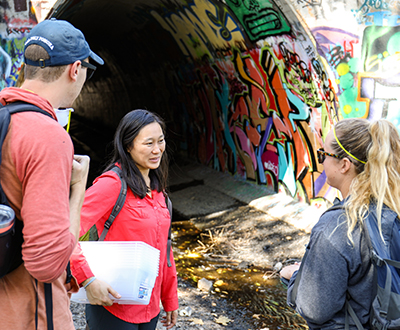 As part of the strategic initiative to foster student success, Dr. Kinoshita will support and advance critical undergraduate experiences such as the Student Research Symposium, Summer Undergraduate Research Experience, and the Associated Students Undergraduate Research Committee. She will also lead efforts to coordinate and expand a diverse program of undergraduate research and creative activities across the campus.
Dr. Kinoshita runs a strong multidisciplinary research program in water resources and hydrology and her Disturbance Hydrology Lab focuses on the impacts of natural and human disturbances on surface water. She has a long-time commitment to undergraduate instruction, through courses, research and professional activities. She supports underrepresented and non-traditional students in her lab at SDSU, where she has mentored and supervised over 20 undergraduate students in independent projects and engaged over 30 students in fieldwork, providing hands-on experience outside of the classroom. Her NSF CAREER award supports internship opportunities for community college students over the next five years. She has over 50 international and local conference presentations and 7 journal papers that were co-authored with SDSU undergraduate students and graduate students. Her students' works have been recognized by 11 presentation awards and fellowships.