Dr. Matthew Verbyla & Lorelay Mendoza Publish Paper in Environmental Engineering Science Journal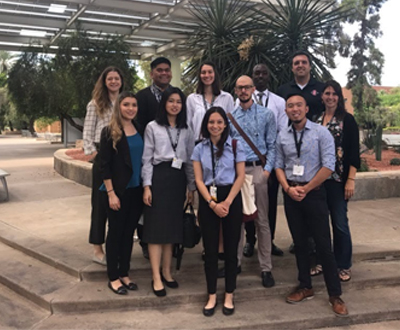 Students from the research groups of Matthew Verbyla and Natalie Mladenov who attended the workshop at the AEESP conference in 2019. From left to right: (upper row) Lauren Steinberg, Federick Pinongcos, Anaïs Gaunin, Isaac Musaazi, Matthew Verbyla; (lower row) Mireille Garcia, Fei Zhao, Lorelay Mendoza, Jose Calderon, Arnold Wong, Natalie Mladenov.
Dr. Matthew Verbyla (Environmental Engineering) and Lorelay Mendoza (B.S. Environmental Engineering, class of 2019) are co-authors of a paper published recently in Environmental Engineering Science journal entitled Environmental Engineering for the 21st Century: Increasing Diversity and Community Participation to Achieve Environmental and Social Justice.
In this paper, which was led by Dr. Lupita Montoya and co-authored by Mendoza, Verbyla, as well as Dr. Maya Trotz and Dr. Christy Prouty (University of South Florida), the authors acknowledged that communities of color are disproportionately burdened by environmental pollution and by obstacles to influence policies that impact environmental health. Furthermore, Black, Hispanic, and Native American students and faculty in particular are largely underrepresented in environmental engineering programs in the United States.
The team then presented recommendations for reversing these trends of under representation and increasing diversity and community participation in the environmental engineering discipline. The recommendations were gathered from a workshop that was co-organized by Verbyla and Montoya at the 2019 Association of Environmental Engineering and Science Professors (AEESP) Research and Education Conference in Arizona State University. This workshop was attended by nearly 80 participants including professors, students, and community members.
The paper presents a path forward that includes the following recommended actions: 1) exposing students to community-based participatory methods for research and practice; 2) establishing communities of practice for faculty to learn about community-based research and classroom action research (such as the use of equity analytics in the classroom); 3) broadening the definition of research impact to improve tenure promotion experiences for minority faculty; and 4) using a mixed methods approach to evaluate the impact of community-based research and practice.
The full paper can be viewed by visiting: https://www.liebertpub.com/doi/full/10.1089/ees.2020.0148