Senior Design Project Team Selected as Semi-Finalist in NASA Moon to Mars Prospecting Challenge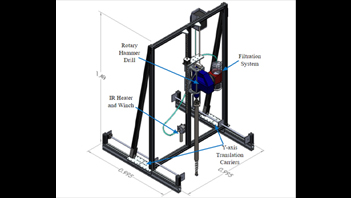 An interdisciplinary Senior Design Project Team consisting of Matthew Gonzalez (ME), David Bunson (ME), Krysta Rhodes (ME), Jesus Figueroa (ME), Jonathan Maravilla (ECE), Alan Clemenson (ECE), Brandon Mosburg (ECE), Ryan Marmion (ECE), and Humood Alghunaim (ECE) as team members is one of 12 teams from around the country selected to be semi-finalists in the NASA Moon to Mars Prospecting Challenge. Dr. Scott Shaffar the ME Senior Design Projects Instructor, who is teaming with Barry Dorr the ECE Senior Design Projects Instructor, is the mentor. For more information please visit http://specialedition.rascal.nianet.org/.
Ut finibus neque leo, ac feugiat erat blandit sit amet. Nulla et diam metus. Cras in orci vitae tellus posuere gravida sit amet vel lorem. Suspendisse dapibus bibendum porttitor. Donec neque ligula, consectetur nec augue sit amet, venenatis congue orci. Phasellus rutrum dignissim libero nec ultrices. Ut feugiat tempus auctor. Donec pellentesque gravida lectus, ac hendrerit diam gravida et. In sem arcu, mattis eget lectus ac, euismod efficitur tortor.
Proin sed dictum ex. Morbi auctor, libero ut facilisis euismod, ante mauris posuere nulla, eu lacinia libero ipsum vitae nunc. Donec suscipit ullamcorper risus, vitae accumsan lacus ornare eget. In at cursus elit. Praesent pulvinar fermentum massa vitae feugiat. In ac eros vel orci mattis maximus. Phasellus lectus turpis, mattis ut eros eget, pretium aliquam libero. Vivamus aliquam lectus non tristique volutpat. Integer tincidunt laoreet ligula, ultricies congue leo scelerisque a.