Mechanical Engineering Student selected as participant in the Toyota Dream Endowment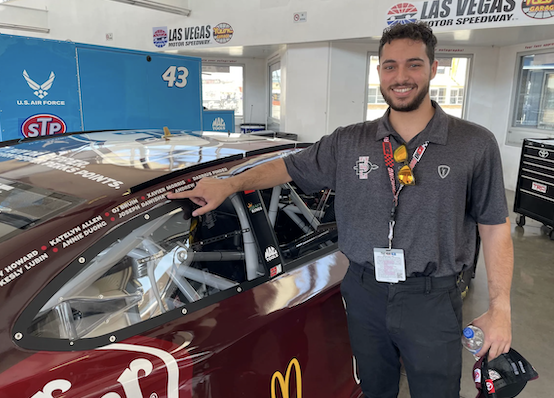 ME Senior Joseph Dawisha was recently selected as one of two participants in the Toyota Dream Endowment. This program is for students of diverse ethnic backgrounds who are interested in a career in the automotive industry and motorsports. This program recognizes students with excellent academic and social skills who have a passion for motorsports. As part of the experience, Joseph spent a weekend at a NASCAR race in Las Vegas with one of Toyota's teams, 23XI racing. Throughout his time in Las Vegas, he was paired with 23XI Racing's lead race Engineer and got the opportunity to see what is done behind the scenes such as preparing the car for the race, analyzing data from other cars and preparing a strategy for the race. Joseph sat alongside the engineer as he walked him through how the team uses simulation data and applies that to the setup of the actual race car on the track. Joseph was able to chat with the driver and ask him any questions. Throughout the duration of the race, Joseph sat next to the lead engineer and crew chief as they did their job coordinating, strategizing and analyzing the driver's and car's performance. He was able to monitor the driver's throttle, brake and steering inputs relative to other drivers. In addition to this experience, Joseph was also selected as a winner of a $5,000 scholarship courtesy of Dr. Pepper. As a result, Joseph's name was featured on their race car at that race. Joseph will be graduating in December 2021 and will be attending the University of Michigan's Automotive Systems Engineering Masters Program.
To learn more about the Toyota Dream Endowment, please click here.