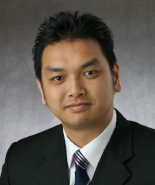 Phong Bach
'00 B.S., Electrical Engineering, San Diego State University, San Diego
Engineering Fellow
Raytheon Company - Integrated Defense Systems
BIOGRAPHY
Phong Bach is an Engineering Fellow with over 19 years of service at Raytheon, Integrated Defense Systems (IDS). He primarily works Naval Ship Electronics Integration, from initial design and development to post-delivery lifecycle support.
Mr. Bach currently serves as Position, Navigation, and Timing (PNT) Programs Technical Director, responsible for technical oversight and development of future PNT needs for Maritime platforms. Prior to this role, Mr. Bach was the Chief Engineer for the GPS Based Positioning, Navigation and Timing System (GPNTS) program, which is the next generation PNT data fusion and distribution system for the Surface Fleet Navy.
Mr. Bach chairs the Raytheon Corporate Technology Network's Positioning, Navigation, and Timing (PNT) Technology Interest Group (TIG), which promotes and facilitates cross business collaboration and knowledge sharing across the corporation. Mr. Bach is also serves as the Innovation Advocate for Raytheon - San Diego, where he leads, mentors, and supports local Research and Development projects. He also championed the establishment of the Innovation Center located at Raytheon - San Diego.
Mr. Bach holds a B.S. in Electrical Engineering from San Diego State University and an M.B.A. from University of Phoenix. He also holds various certifications for Lead Systems Engineer, Enterprise Architectures, and Program Management.
SDSU Affiliations:
College of Engineering - Alumni Advisory Committee Member