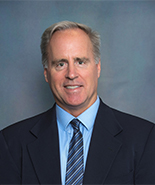 Jim Rasmus
'86 and '93, B.S. and M.S., Civil Engineering, San Diego State University, San Diego
Senior Project Manager/Associate Vice President
Carollo Engineers
BIOGRAPHY
Water is the central focus of Jim Rasmus' work. In his role as Senior Project Manager for Carollo Engineers, the country's leading engineering firm dedicated exclusively to water, Jim provides technical and management leadership on multi-disciplinary water management issues. He serves municipalities, utilities and agencies working to bring safe, reliable water supplies to communities across Southern California while working with organizations that are at the forefront of sustainable water resource strategies.
Jim supports the planning, design and construction of major water resources projects, many of which have earned recognition for their innovation and sustainability. One of his recent projects garnered more than 15 awards, including being selected as a finalist for the Outstanding Civil Engineering Achievement Award, one of the most prestigious honors given by the American Society of Civil Engineers.
Jim is a past-president of the San Diego Chapter of the WateReuse Association. During his tenure, the chapter assisted with outreach and education that helped to "turn the tide" with respect to public opinion on potable reuse in San Diego. He continues to actively support the WateReuse Association, serving in leadership roles on their California Conference and technical programs.
Jim also has served since 2006 as a technical advisor to the State of California on its Clean Beach Task Force. The Task Force has provided more than $100 million in funding for beach water quality projects throughout the State.
Jim is a Registered Civil Engineer in California and Arizona; a Board Certified Environmental Engineer; and an Envision Sustainability Professional.
Jim holds MS and BS degrees in Civil Engineering from San Diego State University.
SDSU Affiliations:
College of Engineering – Alumni Advisory Committee Member
Mentor/Advisor/Guest Lecturer – Capstone Design Class (CivE 495)