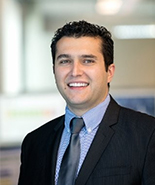 Dusan Selezan
M.S., Construction Engineering and Management
B.S., Civil Engineering
VDC Manager
Balfour Beatty Construction
BIOGRAPHY
Dusan is the VDC Manager for Balfour Beatty and has been a vital part of the team for over six years. In his role, he is responsible for advancing and leveraging Balfour Beatty's use of technology across its business and projects. His primary function is to maximize project value and efficiency through the use of Building Information Modeling (BIM) Technology – coordinating design and trade partners in virtual 3D environments to protype projects in advance of construction.
Outside his daily role, Dusan volunteers his time with several organizations. He serves on the Board of Directors for the Associated General Contractors San Diego Chapter and the Construction Management Association San Diego Chapter. Dusan also teaches the Virtual Design and Construction class as a part-time professor at the New School of Architecture & Design and guest lectures at San Diego State University.
Dusan has also served on the Board of Directors for the National Construction Management Association and is a past Adjunct Professor for San Diego State University's Virtual Design and Construction Class (Con E 296).