Femineer® Program Team at Barnes & Noble's Explore the World of Work Outreach Event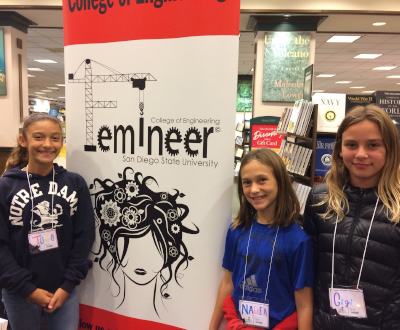 The SDSU College of Engineering Femineer® Program recently had the opportunity to partner again with Barnes & Noble alongside World of Work®, an organization which aims to "empower every child with unique strengths, interests and values needed in the world to nurture happy kids, living in healthy relationships on a path to gainful employment." On November 21st, 2019, the SDSU Femineer® Program team tabled alongside over 20 other San Diego County industry representatives and organizations with the goal of exciting K-12 students about STEM, while leading students in creating LED light-up name badges. The children, with some help from their parents and the Femineer® Program team members, had the opportunity to design and construct the light-up name badge that they were able to wear throughout the event and enjoy at home. Using basic supplies, the children mapped out and constructed a simple circuit on the back of their name tag, using an LED light, conductive copper tape, and a cell battery. The activity allows for early exposure to the science and engineering of everyday products, such as switching on and off a light, but at a much smaller scale. Which, in turn, has the ability to open a child's curiosity to STEM disciplines early on.
Over a three-hour period with more than 300 children and parents circulating around the store visiting numerous tables, the Femineer® team helped a plethora of children, ranging from various schools and STEM backgrounds, to create their LED name badge while teaching them about circuits in their day-to-day lives.
We are grateful to Barnes & Noble, especially Mary Meier, the Market Business Development Manager for Barnes & Noble in the San Diego Region, for inviting us to be a part of their World of Work® event. We look forward to collaborating again in the future.
If you're interested in supporting the SDSU Femineer Program, please visit: http://campaign.sdsu.edu/femineerprogram
About the Femineer® Program:
The Femineer® Program was originally created and funded by Cal Poly Pomona's College of Engineering in 2013 to inspire additional females to pursue Science, Technology, Engineering, and Math (STEM) in their education and career. SDSU's College of Engineering adopted the Femineer® Program in Fall 2016. The program provides K-12 students with project-based learning, female engineering student mentors, and opportunities to visit a Femineer® affiliate university, while building a sustainable program and community for current and future STEM leaders. For more information on the Femineer Program, please visit https://www.engineering.sdsu.edu/explore/femineer_program or contact the SDSU College of Engineering Femineer Program Director, Michelle Bunn, at [email protected]. The Femineer® Program is open to schools for all students in grades K-12. San Diego State University prohibits discrimination in employment, educational programs, and activities on the basis of race, creed, color, religion, national origin, age, sex, pregnancy, disability, genetic information, status as a U.S. veteran, service in the U.S. military, sexual orientation, gender identity, associational preferences, or any other classification that deprives the person of consideration as an individual. The University also affirms its commitment to providing equal opportunities and equal access to Univeristy facilities. For additional information, contact the Division of Diversity and Innovation at 619-594-0523 or [email protected]