Fall 2019 Femineers® Meet the Motorola Women of the West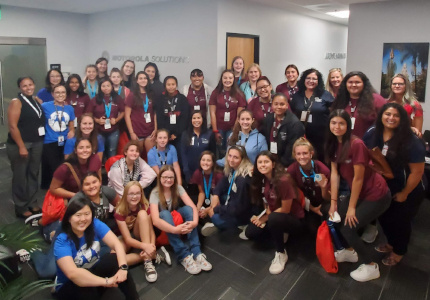 As our SDSU College of Engineering Femineer® Program in San Diego County schools continues to grow, the number of industry partnerships and collaborations also continue to increase. On Friday, October 25th, 2019, 28 Femineer® students from Ramona High School and Olive Peirce Middle School had the opportunity to participate in our first Femineers® Meet the Motorola Women of the West: STEM Talk Day at the local Motorola Solutions office in Scripps Ranch.
Karl Zimmer, Director of Engineering at Motorola for the Western region, welcomed the Femineer® students and inspired them to "help people be their best in the moments that matter." Following the welcome and an overview of Motorola Solutions the event consisted of mini talks led by various female Motorola engineers, such as Gagan Ghuman (Systems Engineer), Alice Yu (Software Engineer), Lisa Laux (System Engineer), and Esmeralda Moreno-Thornton (Systems Integration Specialist) who shared their academic and career journeys. The talks then segued into a mini Q&A session with the Mortola Women of the West team, giving the students in attendance an opportunity to ask the engineers questions. To conclude the day's activities, the Femineer® students were given the opportunity to participate in a hands-on activity using Motorola radios, giving the students a space to obtain a better grasp of a small portion of the engineering done at the company. The half-day event concluded with lunch alongside the Women of the West team.
We are extremely appreciative to Motorola Solutions and their Women of the West, including MaryAnne Vitulli, Maymie Noble, Alice Yu, and Lisa Laux, and especially under the leadership of Esmeralda Moreno-Thorton and Katie Lovette, who made this STEM Talk Day possible for our Femineer® students. We are looking forward to collaborating with them in Spring 2020 for another STEM outreach opportunity.

If you're interested in supporting the SDSU Femineer Program, please visit: http://campaign.sdsu.edu/femineerprogram
About the Femineer® Program:
The Femineer® Program was originally created and funded by Cal Poly Pomona's College of Engineering in 2013 to inspire additional females to pursue Science, Technology, Engineering, and Math (STEM) in their education and career. SDSU's College of Engineering adopted the Femineer® Program in Fall 2016. The program provides K-12 students with project-based learning, female engineering student mentors, and opportunities to visit a Femineer® affiliate university, while building a sustainable program and community for current and future STEM leaders. For more information on the Femineer Program, please visit https://www.engineering.sdsu.edu/explore/femineer_program or contact the SDSU College of Engineering Femineer Program Director, Michelle Bunn, at [email protected]. The Femineer® Program is open to schools for all students in grades K-12. San Diego State University prohibits discrimination in employment, educational programs, and activities on the basis of race, creed, color, religion, national origin, age, sex, pregnancy, disability, genetic information, status as a U.S. veteran, service in the U.S. military, sexual orientation, gender identity, associational preferences, or any other classification that deprives the person of consideration as an individual. The University also affirms its commitment to providing equal opportunities and equal access to Univeristy facilities. For additional information, contact the Division of Diversity and Innovation at 619-594-0523 or [email protected]