Dr. Kevin Wood Develops COVID-19 Ventilator Prototype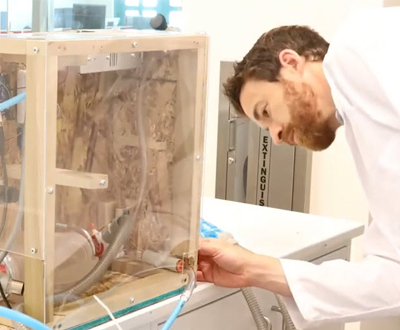 Mechanical Engineering Professor Kevin Wood develops low cost, easy-to-manufacture ventilator to help with COVID-19
In just nine days, SDSU College of Engineering, Assistant Professor Kevin Wood and his Interface Design Lab team have designed and built a ventilator that may be able to be mass produced and supplied quickly to aid in the fight against COVID-19. Using materials he purchased at Home Depot and a large industrial supplier, Wood's ventilator allows for a constant positive pressure into the lungs while also providing breaths. Material cost for the ventilator is under $300.
Dr. Wood's lab was recently visited by the head of UCSD's Division of Pulmonary and the manager of UCSD's hospital dealing with pulmonary diseases. They liked Dr. Wood's design and that the system allowed patients to take "unenforced breaths." Scripps Pulmonary agreed to test the system on their "Michigan test" lung simulator. While the focus of the ventilator's use is for the COVID-19 crisis, Dr. Wood has shared that it has a lot of applications for use in third-world countries; not just for use during the COVID-19 pandemic, but also as a practical alternative to ventilation systems, which are too expensive to be purchased in some areas.
Dr. Woods is a Mechanical Engineering Assistant Professor specializing in Li metal anode for next generation batteries, not ventilators. Using his engineering experience and education, he's been able to see a need and react quickly.
If you would like to support Dr. Wood's COVID-19 ventilator efforts, please use the following link to give a gift online: http://campaign.sdsu.edu/MechanicalEngineering
Indicate "Ventilator" in the Other Designation box on the online form.
Dr. Wood's ventilator has also been featured on the following media outlets: