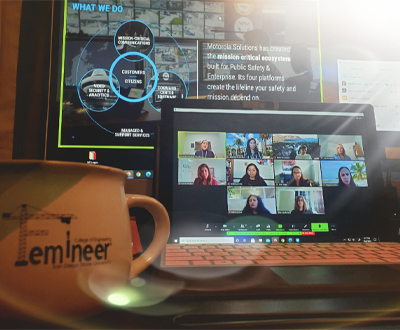 The SDSU Women in Engineering Program and the College of Engineering Femineer® Program kicked off the International Day of the Girl week with a STEM Talk featuring Motorola Solutions. The STEM Talk was held on October 9, 2020, and engaged over 40 participants consisting of high school and college-level students, educators, and Motorola engineers.
WE/Femineer® Director, Michelle Bunn, shared how the virtual STEM Talk with Industry series stemmed from an original in-person STEM Talk Day with local middle and high school Femineer® students at the San Diego Motorola Solutions campus a year prior. Femineer® students from Olive Pierce Middle School and Ramona High School had an opportunity to meet with some of Motorola's Women of the West, listen to a panel of employees, and participate in an activity using Motorola walkie talkies. It was such a success that inspired the WE/Femineer® team to continue the STEM Talks with Industry in a virtual format during the pandemic.
Esmeralda Moreno-Thornton, a Systems Integration Specialist at Motorola, introduced the company to the STEM Talk attendees explaining the broad area in which they serve through their products such as police officers, national security, as well as public services, and more. She also touched upon the much-requested internships, which employ 52% women or persons of color through internships annually, as well as opportunities for full-time employment at the company. Further, Esmeralda spoke heavily about the Motorola Women of the West which is an employee resource group for women within the company who worked together to "increase their visibility to other successful career women and collaborate on issues that face women in corporate environments." The resource group also volunteers at events, such as the Femineer® event mentioned previously.
Following an informative introduction to Motorola Solutions, a group of panelists spoke to the audience about their experiences in their path to their current role at the company today. Panelists include Senior Presale Engineer & Senior Presale Manager, Revthi Lakhole, Presale Business Manager, Maymie Noble, Senior Account Managers, Lisa Mansuetti & Lynn Anto, Field Quality Director, Mirta Vazquez, Customer Support Manager, Ellen Vanhole, and Technical Program Manager, Deborah Crozier.
The panelists in attendance were located around the nation and spoke about the various projects they have been involved in. Similar to past STEM Talks, the speakers emphasized the various ups & downs, and unexpected turns, they experienced as they moved along their academic and career paths. One notable addition to many pathway slides during the presentation was the inclusion of personal milestones and life events, such as Ravthi getting married in between school and working at Motorola, as well as Mirta and Ellen becoming mothers and Engineers.