Summer STEM Talk with Otter Products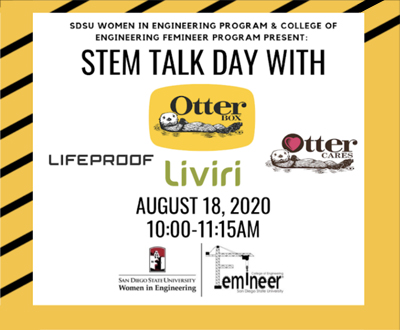 The SDSU Women in Engineering & Femineer Programs had the privilege to host their second Summer STEM Talk Series with Industry webinar featuring Otter Products on August 18, 2020. During the event, deep insight into the pathways of each panelist was shared with the 25 attendees.
Weishin Sharp, an Otter Products Development Lead and SDSU alumna, brought together eight engineers from various areas of the company to discuss their pathways into the Otter Product world. Within Otter Products lie four different subsections of the company, which include Otter Box, Lifeproof, Liviri, and, the philanthropic side of the company, Otter Cares. The panelists consisted of Corinne Allen (SDSU alumna) and Taylor Hutchin from the Design Engineering department, Lauren Williams from Engineering Management, Amanda Rahalewich from the Test Engineering department, Julia Henderson from the Tooling Engineering department, Azach Zupancic from CAD Design, Shanshan Li from Industrial Design, and Ashley Chipman from Program Management. Panelists shared their conventional and unconventional academic and career paths and how it all led them to jobs at Otter Products. Students were able to submit questions to the panelists in advance to be part of the webinar. Each of the panelists emphasized to the students that it's a misconception that you need to be great at math and physics to consider an engineering career. One of the panelists, Taylor, suggested to students to "decide your path as you go." Another panelist, Lauren, mentioned students should be "open to opportunities." They encouraged students to look past any challenges and stick with it.
Students were interested in what the work environment was like at Otter Products. The panelists shared that 80% of their time is spent collaborating with other team members and other departments. Lauren appreciates having people/coworkers to bounce ideas off of. Shanshan mentioned that as a Senior Industrial Designer she's had the opportunity to work with Google, Amazon, and Disney/Pixar, on some projects. She shared that in her job, she can spend several years designing and creating a product and for it to get scrapped, so she's learned to not to take it personally.
Otter Cares "creates and supports programs that inspire and equip tomorrow's inventors, creators, and entrepreneurs," by giving grants to schools and districts, hosting events, encouraging employees to volunteer their time to serve their communities, and being a part of events such as the SDSU STEM Talk series. Shanshan shared that some of the reasons she loves working at Otter Products are that the employees are passionate about the company and the products they make, that it's a smaller and more intimate company, and that the employees are much younger.
Otter Box, Lifeproof, and Liviri are the products and services of the Otter Product company, who create and test items such as phone cases, coolers, and backpacks. Notably, Lifeproof is the number one selling waterproof case in the US since 2016, and Otterbox is the number one smartphone case in the US since 2016.
When asked what their best advice would be for our students pursuing engineering degrees and a job at Otter Products, the panelists emphasized that their attitude and effort will get them to their goal. Lauren suggested that students become comfortable with failure. She also suggested they learn to be able to sell their ideas and communicate them well to others.