STEM Talk Day with Qualcomm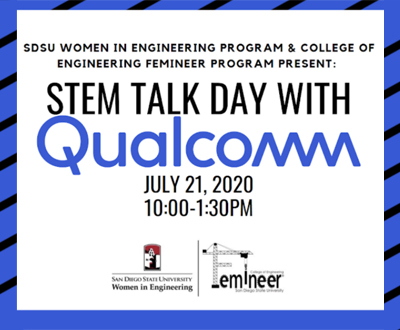 The SDSU Women in Engineering (WE) & College of Engineering Femineer® Program, in partnership with Qualcomm, hosted their first Summer STEM Talk Day on July 21st, 2020. Geared towards high school Femineer® students and SDSU WE postsecondary students, the event heavily touched upon the company's internship and career opportunities for the 30 attendees present.
The three-hour virtual event opened with a welcome and company overview from Anne Elkin, a proud SDSU alumna, and currently the Vice President in Human Resources for Qualcomm. Anne highlighted Qualcomm is well known for its technology leadership and over 30 years of driving the evolution of wireless. Its global impact includes having over 130K granted patents and pending applications in research and product development taking part throughout their international company, as well as important resources at the local level. Anne emphasized how Qualcomm employees are self-motivated, passionate about worldwide causes, and eager to give back to their community. She briefly discussed that Qualcomm offers over 34 employee networks, including QWomen, eQuality, LatinQ, QAAAD (Qualcomm African & African American Diversity), QVets, AbilityQ, QEmerge, and U2Q. Concluding with answering questions from the audience, they segued right into the first intern session. With a total of four intern sessions, current Qualcomm summer interns spoke about the four internship opportunities with the following departments: Systems, Hardware, IT, and QCT.
Interns Yosira Hernandez and Ammar Ahmed, began the internship sessions talking about their experiences working with Qualcomm for the summer. They spoke about their academic path, what they did to prepare for the internship, and their day to day responsibilities during the current pandemic that has them working from home. They both expressed their appreciation that despite the pandemic, Qualcomm decided to move forward and offer virtual summer internships to 500 students. They shared how Qualcomm put a lot of thought and effort into making their virtual internship interactive and engaging, such as providing social hours where they can meet other interns and participate in various fun activities such as trivia night. Both had such positive things to express about their experience with Qualcomm.
The second session, led by intern Farzana Haque, dove deeper into her current research with the company as she walked through a presentation about Hardware, what it is, and exactly how she is taking part in the research. She also gave the audience a brief overview of Hardware versus Software for those who were curious.
Given the limited opportunity to attend career fairs during the pandemic, students were provided a unique opportunity to participate in an Ask a Recruiter session, where the audience had the opportunity to ask Qualcomm recruiters about obtaining an internship with the company, how to make themselves stand out as a potential intern or full-time employee, what classes they should take in preparation for an internship or career there, and more. Qualcomm recruiters, Betty Rosado and Samantha Welch, gave insight into what companies are looking for and how to best prepare for a summer internship.
The last two intern sessions were led by Rashmi Swaroop from the IT department, followed by QCT Software lead by interns Micaela Bernichio, Janine Bariuan, and Ariana Ghahary. Throughout the sessions, webinar attendees continued to participate and ask questions. During the QCT Software portion, the panelists spoke heavily about the different projects they are working on, each in a different part of the country. Notably, the Qualcomm interns gave insight into their experiences in regards to training and how they each knew only engineering fundamentals but were able to learn from the ground up. Some interns shared the benefits of having been involved in student organizations, such as Society of Hispanic Professional Engineers (SHPE) or any type of robotics club, while others mentioned gaining experience in Python or other coding languages or attending engineering conferences helped them be successful in their summer internship.
The three and a half-hour virtual STEM Talk with Qualcomm gave a descriptive overview of the company and the important projects done across the world. More notably, the webinar dove deep into the various aspects of Qualcomm internships such as what to do in preparation to apply, some project examples, direct insight into the day to day internship from current interns, and an even deeper lens from Qualcomm recruiters. From what the summer interns shared, they were assigned both a manager and mentor to allow them to get a lot of feedback and receive the necessary training on the technology they used in their project. Qualcomm's HR took each individual intern's interest into account to match them well with a department's team and project. Qualcomm internships To access the Qualcomm 2021 Internship opportunities, go to https://www.qualcomm.com/company/careers.