WE Chat with Dr. Tara Welborne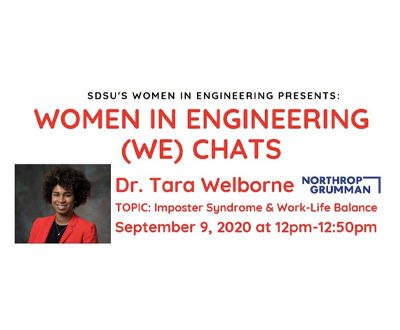 On Wednesday, September 9, 2020, the SDSU Women in Engineering Program and the College of Engineering Femineer® Program hosted the first WE Chat of the Fall semester, to more than 20 participants, featuring Dr. Tara Welborne.
Dr. Welborne, Mission Assurance Manager at Northrop Grumman, led a discussion about "Imposter Syndrome & Work-Life Balance." Allowing herself to be completely transparent and vulnerable with the audience, Dr. Welborne spoke of personal experiences throughout her academic and career paths. She spoke heavily of her methods of balancing work and life, while emphasizing the importance of putting one's home life and family first.
As she described her education and career trajectory, she also shared the personal milestones and life changes that were going on in her life at the same time. By doing so, she was able to share with the audience how her work life balance was constantly changing. One of the main takeaways from this webinar was how expressing that one's academic and career path does not have to be a straight line to be successful, because life doesn't always happen as expected and thus we have to work around changes. She encouraged students to live in those moments and make the best of their given situation. She spoke very specifically about her husband being in the military and being deployed for long periods of time. She shared that for this reason her main priority has always been and will continue to be her family. When her husband is home, she ensures that work always comes second to her husband and her two sons. As she spoke of her balance, she made it clear that everyone's situation is different. However, she encouraged the students to find their community, as it was mentors and supportive colleagues who helped her overcome many adversities she had faced.
Another notable topic within the WE Chat was imposter syndrome, Dr. Welborne expressed her personal experiences with the syndrome and spoke of ways to overcome it. She expressed that there will always be times when you might feel like you don't belong, but that doesn't mean that you don't. Working as an engineer in such a male-dominated field will come with challenges as she expressed, but it is crucial to not allow for the imposter phenomenon to overshadow your hard work and successes. She encouraged students to recognize when they have to capitalize on "faking it until you make it." Often times, people hesitate on pursuing their goal because they don't believe that have the skills or are capable of accomplishing that goal, but in fact, plenty of people are figuring it out as they go. She mentioned her mentor, from SDSU, Scott Schaffer, who encouraged her to "show up and be you." She recommended to students to always remember to be their authentic self and that they don't need to feel pressured to being the best. She emphasized that students don't have to constantly compare themselves to others, and how we can all shine in our own ways. She also recommended to students to work on transferable skills such as leadership, communication, and adaptability, as these are crucial skills to being successful as an engineer. She mentioned that students should be adaptable to change and have the ability to be resourceful when finding solutions. She highly encouraged students to stay updated on the standards related to their engineering discipline.
Dr. Welborne's vulnerability and honesty allowed her to really connect with the audience as she spoke about such crucial topics that aren't regularly brought up in the STEM workforce. This WE Chat encompassed some of the many challenges that come with imposter syndrome, work-life balance, and most importantly, the many ways to overcome the challenges while being successful in the field.