WE Chat with Dr. Thais Alves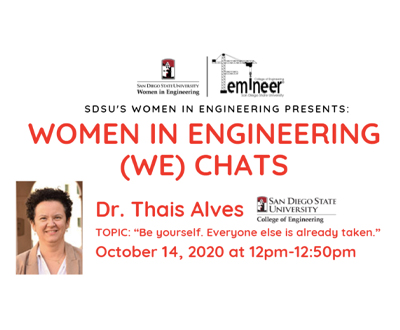 On October 14, 2020, the SDSU Femineer® Program and Women in Engineering Program had their second WE Chat of the semester featuring Dr. Thais Alves from the Civil, Construction, and Environmental Engineering department, speaking on the topic, "Be yourself, everyone else is already taken."
Dr. Alves began the WE Chat by talking about the importance of being one's self, how there is strength in diversity, which she tied into her presentation. She spoke of her experience living in her home country of Brazil and studying there until she obtained a postsecondary degree in engineering. Following being awarded a full scholarship to continue her studies, she came to the U.S. and graduated with her Ph.D. from the University of California Berkeley. Speaking in detail about her academic path, she emphasized how hard she worked to get to that point in her career. She expressed how her peers often spoke of the people they had to knock down to get to where they wanted, but her mentality was always needing to work the hardest and have the best scores to earn her way. She spoke highly of her mentors and the people who helped her along her career path as a Construction Engineer.
Shifting topics, she shared with the WE Chat participants about a change in her life that she battled during her academic journey. Allowing herself to be completely vulnerable, Dr. Alves spoke of mental health challenges she faced during her studies and encouraged students to practice self-care to maintain a positive mental health. The process was a long and difficult one, but with perseverance, much like in academia, she overcame the mental health challenges and was stronger than before.
Further, Dr. Alves spoke heavily about the importance of finding one's community where one can be authentically themselves. She praised her colleagues, fellow female faculty, and her all-female team she has been working hard alongside on a current project. During one's career there will be countless challenges and obstacles to overcome, making one's community a crucial part of their professional life.
Throughout the WE Chat, Dr. Alves used her personal experiences to educate the audience. She was vulnerable and spoke of herself intimately and allowed participants to truly get to know her. The strongest message from the chat was how each of her lived experiences have intricately made her who she is, and the importance of others understanding the same.