"Where Are They Now?" Donor Story: George Parker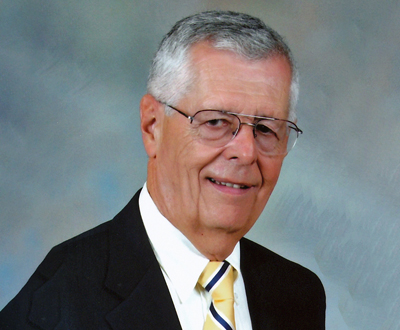 A native of Victorville, CA, George Parker came to San Diego State College to study engineering. He graduated in January of 1962 with a concentration in Mechanical Engineering. That degree set him on a very rewarding career path. Early in his career, Parker joined General Dynamics-Astronautics in San Diego. He oversaw the structural integrity for the interstage adapter for the Atlas-Centaur space launch rocket. In 1965, Parker was employed by the Jet Propulsion Laboratory in Pasadena, California, where he was responsible for the flight structural dynamic integrity of the Surveyor Moon soft lander spacecraft. In 1968, Parker joined the National Highway Traffic Safety Administration of the U.S. Department of Transportation in Washington, D.C. Over a career of twenty-seven years at that agency, Parker held numerous increasingly responsible engineering and engineering management positions in research, regulation, and enforcement related to motor vehicle crash avoidance and crash worthiness. Parker retired from the agency in 1995 as the executive in charge of Research and Development. This included management of a staff of over one hundred engineers, scientists and support staff, a budget of over sixty million dollars, and a research laboratory. As head of Research and Development, Mr. Parker was responsible for the development and implementation of a research program covering large-scale accident investigation systems, improved motor vehicle occupant crash protection, and improved motor vehicle crash avoidance capabilities. He is a charter member of the Federal Senior Executive Service and testified before Congressional committees on technical matters and was the agency media spokesperson on certain technical subjects.
In 1995, Parker was named Vice President of Engineering Affairs at the Association of International Automobile Manufacturers in Arlington, Virginia. This position entailed reporting to member manufacturers by Parker and his staff on existing and proposed Federal and State motor vehicle laws and regulations in safety, emissions, and fuel economy, and representing the collective views of member manufacturers on new proposals. Parker was the designated media spokesperson on technical matters affecting member manufacturers. He retired from this position in January 1999 and has continued motor vehicle safety engineering consulting for member manufacturers and other clients.
Parker and his wife Susan (Heath), who is an SDSU 1962 College of Education graduate, were married in 1960. They have two sons and one daughter. Parker's family, including his children, children's spouses, and seven grandchildren, all reside in the northern Virginia suburbs of Washington, D.C.
The Parkers' value their SDSU education, which at the time of their attendance required only a modest investment. They give to SDSU so that others can achieve their educational goals
George Parker is Aztec Proud, and SDSU is proud of him!