Anna Katya Batovsky Stahlak and David Pierce Walker-Howell Recognized as Outstanding Students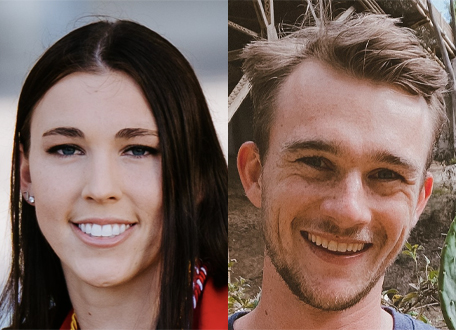 The College of Engineering is pleased to recognize Anna Katya Batovsky Stahlak and David Pierce Walker-Howell as the 2020 and 2021 Outstanding Students.
Anna Stahlak is the College's Outstanding Student for 2020. She majored in Mechanical Engineering. Anna transferred to San Diego State University in Fall 2017 to pursue her goal to be a mechanical engineer as well as a Division I athlete. She was on the Women's Swimming and Diving team as a swimmer, earning the James Malik Award for a 4.00 GPA for Spring and Fall 2018 and has been a Scholar Athlete and on the Dean's List for every semester.
Finishing up her mechanical engineering student career, Anna worked with a group on her senior design project that was sponsored by Simplexity. SDSU Engineering Lecturer Jeff Wield was the industry leader for the project. She served as Project Manager for the project that demonstrated innovative bio-tech and diagnostic processes through the collaboration and integration of mechanical and electrical based subsystems. During her senior year, she interned at Nalu Medical to expand upon her mechanical engineering background.
Anna was born and raised in San Diego. In the future Anna plans to become a project manager once she gains experience as an engineer. She is currently working on a master's degree at National University to earn a Master's of Science in Engineering Management with a specialization in Project Management.
David Pierce Walker-Howell (Pierce) is the College's Outstanding Student for 2021. Always inquisitive about how machines and technology works, but not knowing much about computers or electronics, Pierce chose to major in Computer Engineering as his knowledge was limited in electronics and computers. He quickly fell in love with programming, electronics, and robots.
His favorite part of SDSU was the engineering clubs as they pushed the students to apply what they learned. Pierce was active in SDSU's Mechatronics student organization serving as the Electrical Co-lead his senior year. Prior to that he served as Software Lead for Perseverance and led development of the vehicle's new software system Mech OS. This fall Pierce will be attending Georgia Institute of Technology to pursue a PhD in Robotics. He plans to do research in the intersection of artificial intelligence, control systems, and robotics.
Pierce is interested in a career where he can be an inspirational thinker, leader, and educator in the space of robotics, artificial intelligence, and related STEM fields.
Congratulations to both Anna and Pierce!