Making the World a Better Place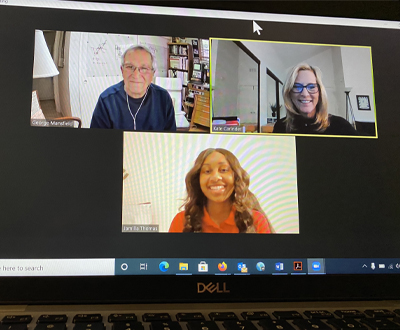 Emeritus Professor Dr. George Mansfield and SDSU's National Society of Black Engineers (NSBE) President, Jamilla Thomas, worked together to provide virtual tutoring, for several students during the pandemic and social unrest in San Diego.
In July 2020, SDSU Engineering Emeritus Professor, Dr. George Mansfield, reached out to Kate Carinder, Sr. Director of Development for Engineering, to see if any of SDSU's black engineering students might want tutoring. Between the pandemic that forced all classes to move to a virtual format in March and the social unrest happening in San Diego and around the country, he wanted to offer support to our black students. Kate reached out to SDSU's National Society of Black Engineers (NSBE) new President, Jamilla Thomas, a Senior in Computer Engineering. She immediately connected with Dr. Mansfield and through their efforts, Dr. Mansfield was able to tutor (virtually) several students. He even helped one student secure an internship at Solar Turbines. Dr. Mansfield couldn't say enough good things about Jamilla. He was really impressed with her professionalism and leadership skills.
Kate met with both Dr. Mansfield and Jamilla via Zoom to say thank you to each of them for their efforts.
Caring Emeriti faculty and outstanding student leaders, it's a great combination.
Each person using his/her skill set to make the world a better place. That's SDSU!!! Go Aztecs!!!