Paul Stuverd Makes $50,000 Gift for Scholarship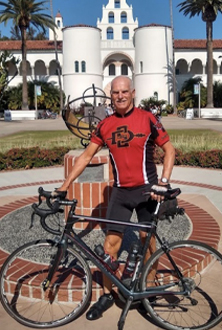 On behalf of the College of Engineering, we are pleased to announce that alumnus Paul Stuverud, '71 BSEE and '76 MSEE, has made an additional $50,000 gift to the endowed scholarship fund "Paul Stuverud MESA Endowed Scholarship" he created in 2019. Grateful for his SDSU education that launched a successful career working in integrated circuit design, Paul hopes that his generosity can ease the financial burden of students today. Paul first started giving to the College shortly after he completed his Master's degree in 1976, supporting the College with annual gifts. Some 50 years later, Paul used his IRA Rollover to establish the fund and provide additional support.
The following link is to a "Where Are They Now" donor story that the College did when Paul established the fund in 2019: https://www.engineering.sdsu.edu/_resources/images/stuverud_Paul_WhereAreTheyNow.pdf?fbclid=IwAR1qRXKN2BIjyT061ApZAm6b_hXdDFyebMsNYz45e9a8CfgW2K8zmJtsXPs.
If you happen to see Paul in the community, at a campus event (virtual event) or biking around San Diego, please feel free to express appreciation for his generosity to the College.
The College is grateful to all those who provide much needed philanthropic support. If you know of anyone who might have an interest in supporting the College, please contact Kate Carinder, Senior Director of Development, College of Engineering at: [email protected].