STEM Talk with Northrop Grumman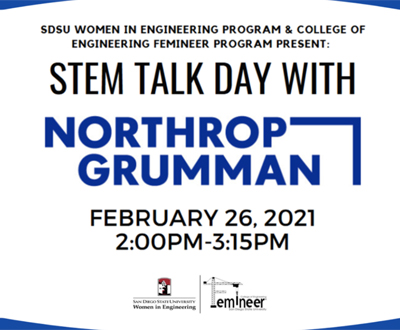 The SDSU Femineer® and Women in Engineering Programs had the privilege of hosting the first STEM Talk with Industry of the Spring 2021 semester, on Friday, February 26th, with a panel of female engineers from Northrop Grumman. The five panelists spoke to an audience of more than 30. Attendees included a mix of SDSU students, San Diego County high school students, and students from various universities throughout California, such as UCSB, UCSD, and Stanford University.
The event began with an introduction to Northrop Grumman, with details regarding employment, internships, employee resource groups, and a plethora of other information, by a favorite Femineer® STEM role model, Dr. Tara Welborne. Following this information, Dr. Welborne introduced Catherine Howard, who is a Sr. Talent Acquisition Business Partner at Northrop Grumman and spoke deeper about career and internship opportunities. She also brought along a colleague to answer attendee questions in the Zoom Q&A box regarding her presentation. Leading into the remaining panelists' academic and career pathways.
The four engineers from Northrop Grumman spoke to the audience about their personal academic and career journeys that led them to their current positions at the company; Andrina Hill, Melissa Stoneman, Krystle Stringfellow, and Dr. Tara Welborne. They each spoke of the windy roads they had each taken to get to where they are today, one detailing that she became interested in engineering after speaking to a female engineer about what she does for a living. Andrina, an SDSU alumna, spoke highly of the Society for Women Engineers (SWE) organization she was an officer of as an undergraduate student that helped her get internship opportunities, as well as many resources she wouldn't have otherwise found. She also expressed the camaraderie she experienced while participating in SWE and is still best friends with many of the girls she met through that organization.
A notable moment during the STEM Talk was when an audience member asked how the company has been handling the changes due to the COVID-19 pandemic. The panelists explained that it was a quick transition, but there was a lot of support and resources to them as they made such fast changes. The discussion then led into a conversation regarding the unfortunate societal challenges that have come during the pandemic, specifically the Black Lives Matter Movement. Dr. Welborne, a black woman herself, shared that the company CEO came forward to address the company's stance on the matter, and made it clear that the Northrop Grumman company has never tolerated and will continue the intolerance of any racism of any kind. A statement that during the current societal climate was comforting to those in the audience.
Throughout the event, it was evident there were common themes within this and past STEM Talks. There were commonalities regarding issues faced as women in the STEM workforce, and more so in the ways the panelists spoke of resilience and hard work, as well as the crucial constant reminder that they too have just as much of a right to be an engineer as their male counterparts. Further shedding a light on the importance of bringing female engineers to continue to speak to the future STEM workforce.