125th Anniversary Emeriti Faculty Highlight | Janusz Supernak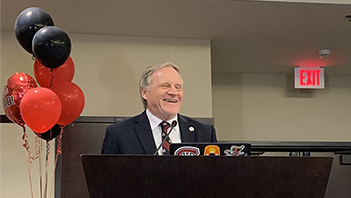 As part of SDSU's 125th anniversary celebration, we take time to recognize faculty who not only served the institution for many years, but have also chosen to support the university by making a philanthropic gift. We recognize the faculty who spearheaded the college to the powerhouse it is today through their teaching. Some teachers, like Janusz Supernak, went above and beyond.
In 2017, SDSU ASCE student leaders established "The Supernak Excellence Award" named after their faculty advisor, Dr. Janusz Supernak. Dr. Supernak has served as SDSU ASCE advisor for over two decades. This award has since been given to the top 5 SDSU ASCE student contributors.
In 2021, Dr. Supernak stepped forward and decided to establish an endowment for an annual monetary award given to the top student out of the five finalists. On behalf of the College of Engineering, we are pleased to announce that Dr. Supernak, long time Department Chair of Civil, Construction and Environmental Engineering has made a $50,000 gift to fund an endowment that will make the annual monetary award in perpetuity The award recognizes an outstanding student in the Department of Civil, Construction and Environmental Engineering.
Dr. Supernak is a long standing champion of philanthropy for the College of Engineering as he has been instrumental in facilitating the Filanc family naming for the J.R. Filanc CEM Program, the Stephen and Lynne Doyle Endowment gift for CEM and the William E. Leonhard Jr. Chair for Environmental Engineering.
SDSU is grateful to all those who provide philanthropic support to the Univesity and especailly honored when emeriti and retired faculty and staff choose to do so.
If you or someone you know is interested in providing philanthropic support to SDSU, please contact Kate Carinder, Senior Director of Development at [email protected]