Aztec Aerospace Design Competes in Design, Build, Fly National Competition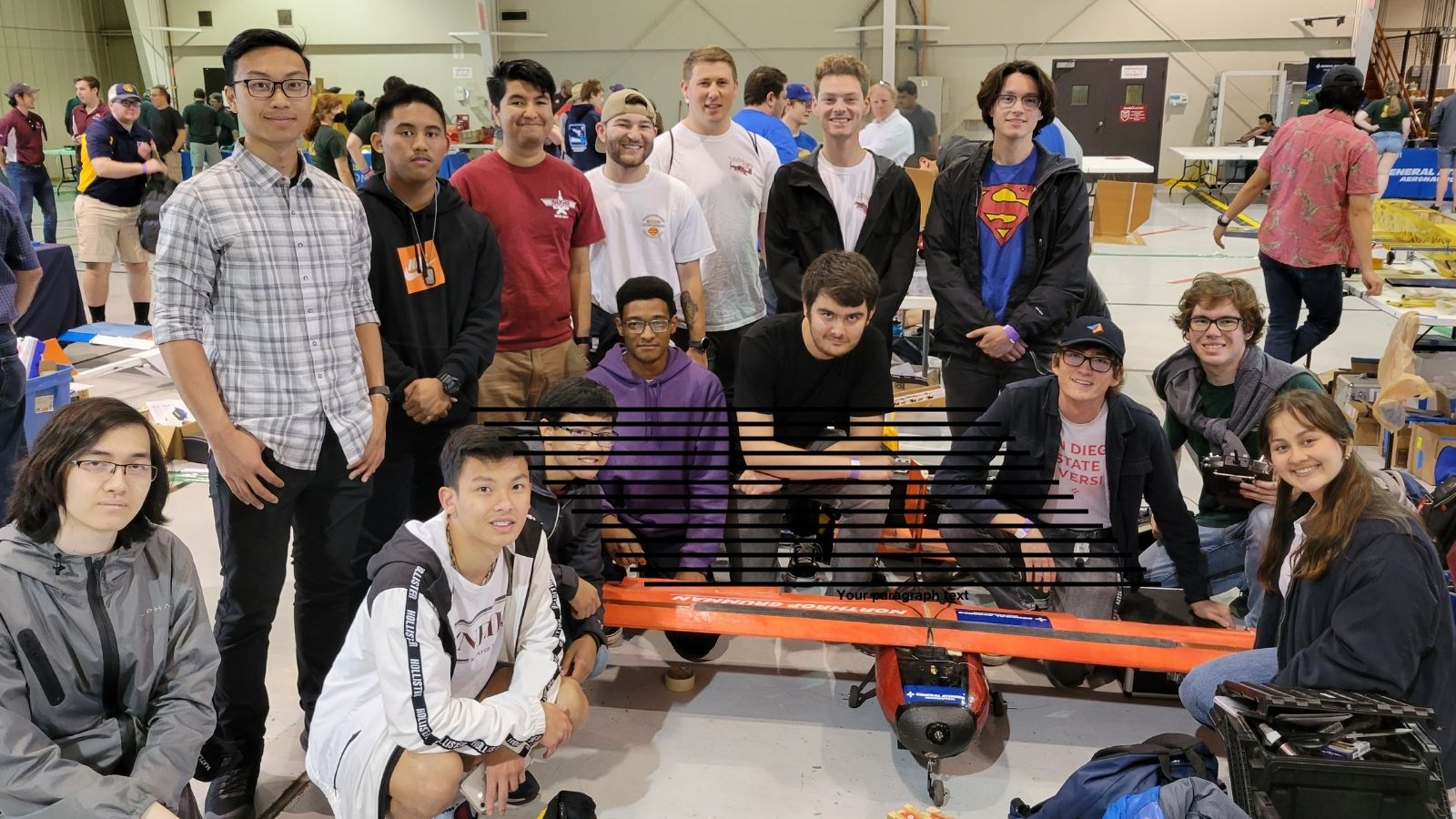 Aztec Aerospace Design recently participated in Design/Build/Fly (DBF), an annual international student competition organized by the American Institute of Aeronautics and Astronautics (AIAA).

Design/Build/Fly (DBF) is an annual international student competition organized by the American Institute of Aeronautics and Astronautics (AIAA) with the aim to provide students in aerospace engineering with an opportunity allowing them to apply what they learned in classroom to designing and manufacturing of an electric-powered, radio-controlled Unmanned Aerial Vehicle (UAV) and eventually flying it over an airfield through the competition. The SDSU DBF team was founded in 1997, with the objective of enhancing students' participation and learning experience through engagement in the annual AIAA DBF competition, which is an excellent example of the major-related extracurricular STEM activities that SDSU Aerospace Engineering students often enthusiastically engage in.
Each year, AIAA releases rubrics for evaluation of the competition based on a custom-made unique objectives and set of new requirements for the DBF competition. In response, each college team must send a detailed design report of their team's aircraft, before the actual competition takes place. This report's score, together with the competition fly score, will contribute to the overall score that each team gets.
The Design Build Fly competition last Spring was held at Wichita, Kansas. A total of 16 SDSU DBF students drove there by car to participate in the competition. It was a great experience for the entire team. The mission for last year was really difficult. However, we prevailed in making a completely unique vaccine vial deployment design when compared to other universities. Along with a plane that was great for the challenging weather conditions in Kansas in April. Of the 120 teams that qualified SDSU finished 35th. That leaves out the fact that among the 4 missions SDSU needed to complete at competition, the SDSU's plane only accomplished one of them. The reason for the SDSU team only completing one mission is sadly when pushing the limit in mission two, a time trial, the SDSU team had a wing root failure, causing the SDSU plane to crash. This upcoming competition year is fast approaching and the team is ready to hit the ground running and motivated from the lessons last year to come back stronger!
Along with the start of the new fall semester, the SDSU DBF team has updated its official name as Aztec Aerospace Design.

Read quotes and reflections from the team that attended competition last Spring below:
"It was an honor to get SDSU DBF back to the Design, Build, Fly competition for the first time in 3 years. I had the opportunity to serve as the Project Manager in the 2021-2022 competition year. One main goal was to revitalize the recovering team from the COVID-19 Pandemic. At the beginning of the year, it was mainly just myself, Roberto, Max, and Elex trying to keep the team alive. I'm very happy that it has been able to evolve to what it is now – a family of dedicated engineers and aviation enthusiasts. There was surely a lot of work that went into it since we set ourselves to a rigorous schedule for the development of our aircraft. Before going to the competition, I stayed in the DBF lab until 1:00 AM most nights to ensure that the plane would outperform in Kansas and the internal systems were operational. Once we got to the competition, it was amazing to see all of the other university's teams all as passionate as we are about aerospace. Most of my time was spent doing final refinements on the internal systems of the plane such that it can pass technical inspection, which it did remarkably." - Jeremy Johnson President 2021-2022, current Chief Engineer
"Competing in Kansas was a great learning experience, it was incredibly competitive and energetic. The winds at the time were blowing at roughly 45 knots with strong gusts. Most teams were scared to fly their plane because the strong weather had the potential to rip apart rc aircraft. Some planes were struggling to propel themselves forward battling the strong headwind. Quetzacoatl (the SDSU aircraft) was so fast it made the wind look almost non existent. It made me very proud to be part of the SDSU aerospace engineering program." - Max Dommers, Chief Engineer 2021-2022, current Vice President
"DBF 2022 was an incredibly fulfilling learning experience. I really enjoyed seeing other teams' projects and getting to discuss our design choices and ideas. It made me realize how important projects like the DBF competition are, as they are what allow us young engineers to put our skills to the test." - Gabriela Gonzalez Ayala, Member 2021-2022, current Communications Director and Manufacturing Lead
"In this trip I got to witness not just engineers from around the world, but also got new ideas of plane design, got to use my knowledge to predict the results of planes by seeing their structure and payload amount. I also got to talk to many people on how their design process went." - Jayson Arntzen, Team Member
"It was a very cool experience, I got to meet the other schools and see what they're up to, as well as make connections and keep in touch with them. The road trip was fun too!" - Luke M., Team Member