Aztec Baja Places First in Suspension and Traction in Rochester Institute of Technology Race 2022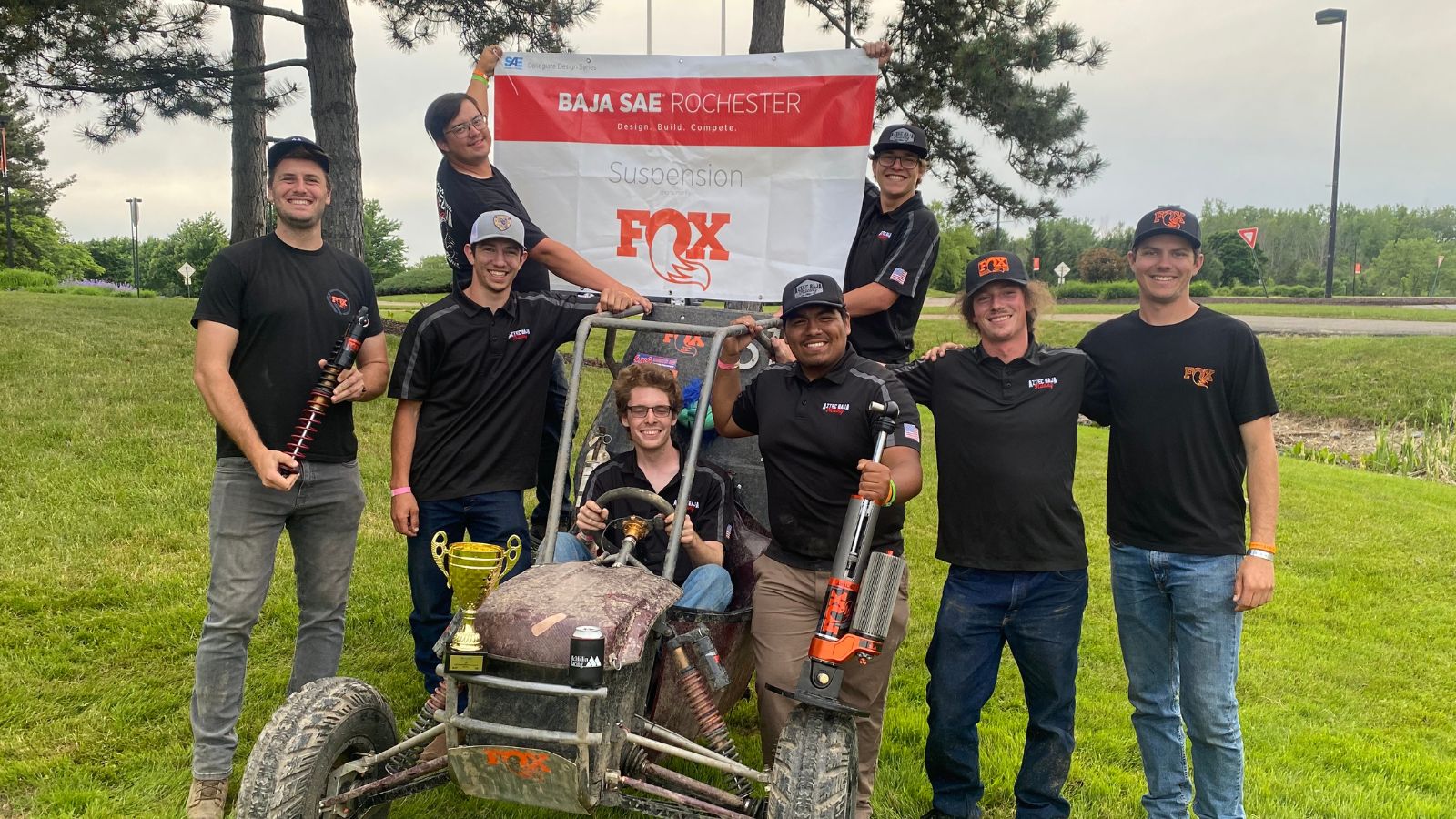 After a little over two weeks of testing and preparing our car for our next competition, we finally returned to racing this time at the world famous Rochester Institute of Technology from June 2nd to 5th! There were teams from Brazil, Mexico, and all across the United States. We were really excited to be here as we applied the lessons we learned at our first competition to improve our overall performance here. We are glad to share that we are bringing home some new hardware with an 8th place Overall Finish and 1st place Finish in the Suspension and Traction event!
Our weekend began with our static events which consisted of a design presentation, technical inspection, brake check, and four wheel drive (4WD) check. In our design presentation we were able to score 9 points higher than in Tennessee which we considered an accomplishment as design presentations are a major percentage of our overall score and we need all the points we can get to be in contention for an overall trophy. After struggling through brake check and tech inspection in Tennessee and making the necessary changes in the short break we had, we were able to pass brake check, tech inspection, and 4WD check on the first try. This was great news as we could focus on preparing the car and making final touches on it before the dynamic events began the next 2 days.
Our dynamic day started with the acceleration event, which determines our starting position for the 4 hour endurance race. We placed 18th out of 88, which put us close to the front and in a good position to work our way to the front of the pack. Next we completed the maneuverability course which consisted of tight turns and off-camber sections. Many cars rolled and did not complete the course but we were able to keep the car on its wheels and wrap it up with a 35th place finish at the end of the day. In the sled pull event we were able to drag the heavy sled through dirt far enough to earn us a 17th place finish.
The suspension and traction course designed and sponsored by our neighbors over at Fox Factory in El Cajon, was definitely a thriller and favored 4WD cars as you can see in the videos below. We had to maneuver over railroad ties, 18 inch logs, a 40 inch drop off and a series of trenches and obstacles that were designed to break your vehicle. We were one of the first cars to make it through the course twice as many cars were getting stuck or rolling over at the concrete drop. Thanks to our skilled driver, Fox shocks, and well - engineered components we were able to take home the 1st place trophy in this event! In our first run, we lost our 4WD but were still able to finish our run. After making some quick repairs, we returned to the course and put down the winning time that was 7 seconds faster than our first attempt! This was a great accomplishment for the team!
The last day of the race consisted of a four hour endurance race held at Hogback Hill MX, a race track used for dirtbike racing. There were large hills, jumps, and obstacles all made to test the cars and the drivers and is a mass start event where there is lots of chaos that occurs on the course. From lap traffic to getting around broken vehicles on turn 1 and throughout the course we were able to fight our way through the pack and hold a top 10 position throughout the entire race. About an hour into it, we realized we lost 4WD but stayed in the race and kept running strong. After our driver change we were running in 3rd place but ran into some minor trouble where we got pushed into a tree but were quickly able to get back on track. Soon after that we had a trailing arm break and had to make a quick and efficient pit stop to repair the component and get us back in the race. In the end, we were able to secure a 10th place finish in the endurance race and were very proud of our accomplishment. In the end we pulled off an 8th place finish Overall in the competition and a 1st place finish in the Suspension and Traction event.
This season, for the first time in school and team history, we successfully designed and integrated a fully functioning 4WD system! This year Baja SAE gave bonus points for 4WD but next season it will be required by all teams. We knew the top teams were going to jump on the opportunity, so we took on the challenge and decided on a 4WD system back in 2020 and were finally able to complete the system and are ready to improve it for next season.
Thank you all for the continued support of our team and we are glad to represent SDSU all the way across the nation! We are looking forward to a summer full of testing and our next competition at the end of September in Green Valley, Arizona!

View the full photo album here.