Aztec Electric Racing Reflects on FSAE Michigan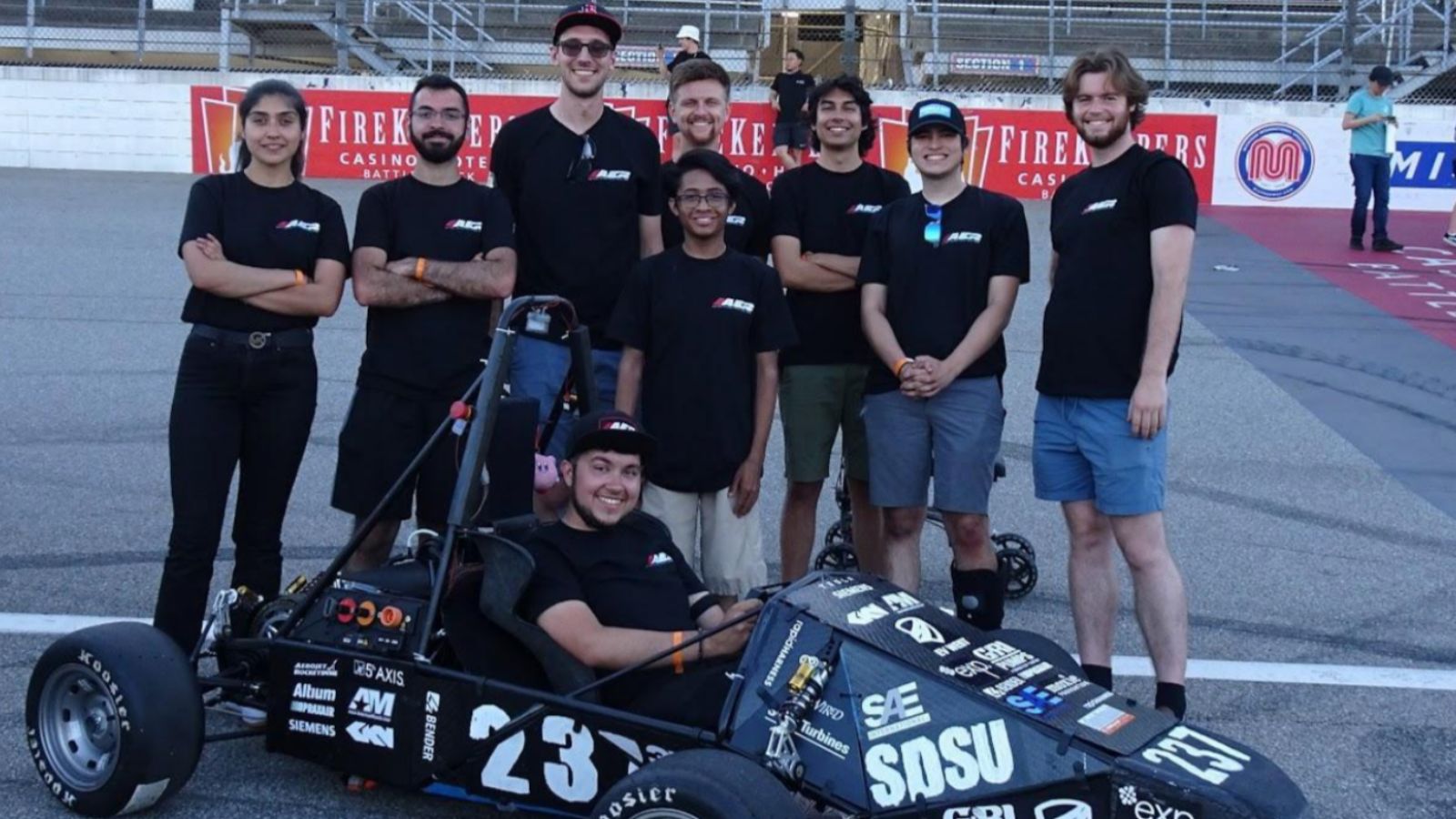 AER was a team on track to compete in June of 2020 however due to the pandemic, the team had to stop all work for our safety. After 2 years of virtual work and many graduations, a team of all-new members began working on the car in the fall of 2021 in preparation for the competition in June 2022, this time in Brooklyn, MI. The team not only learned a lot in the year leading up to competition but even at the site as all except one member had never attended a competition before.
While in Michigan, the members were not only working on the vehicle for inspection but also networking with sponsors and other teams. As a result of the members' experience on the team, some were interviewed with companies like Honda, Tesla, and more. Besides companies, ideas and designs were exchanged fostering creativity among not just SDSU but also schools like the University of Maryland, Western University in Canada.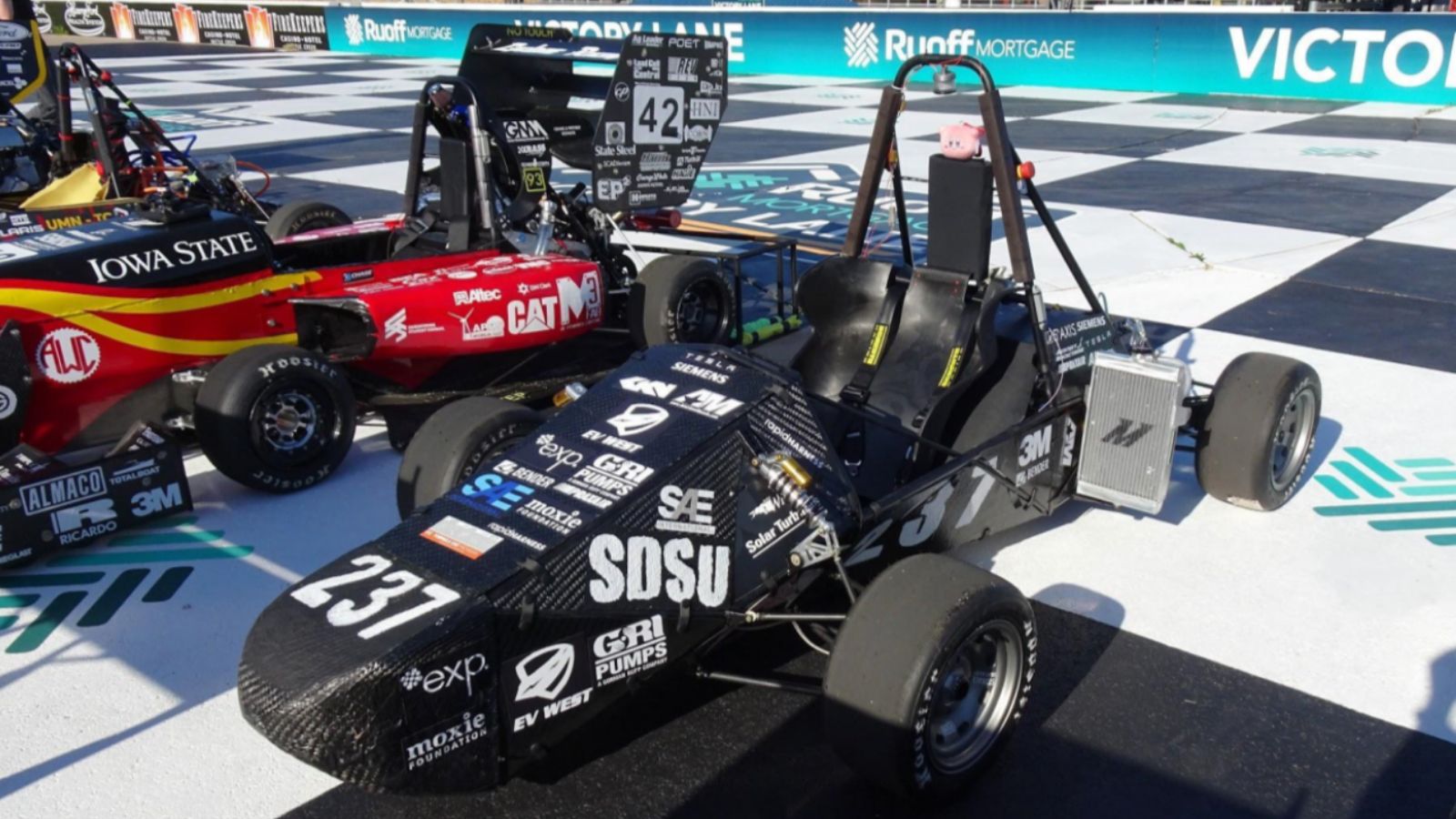 Below are some of the experiences of our members:

Kyle McCoy
I was AER's F21/S22 Chassis Lead. I had recently graduated with a BS in Mechanical Engineering and attended competition with the goal of driving the car. After one very long road trip to Michigan, the team I spent two and a half days working to get the car past tech inspection. On day 3, we finally had the car assembled enough to take it to inspection, but inspection was cut short. Although short, inspection did yield a couple of lessons:

1. The judges will check your car against every rule outlined on the technical inspection worksheet (which can be found on fsaeonline.com). This sheet has some different wording than the rulebook, so be sure to read it as often as you read the rulebook.
2. Be sure to read the ENTIRE rulebook. Annotate it, read it 3 or more times, do whatever it takes for you to feel like you know it, especially the rules that apply to your team.
3. The specific things that tripped us up at Mechanical Tech Inspection were the unfinished brake light (GLV battery was bad too), which must be able to turn on to pass, the location of our sub-belt attachment points, the lap belt rubbing against the seat, and the sub-belt not having quick adjusters.
4. It took me two tries to check off the 5-second-egress-time requirement, so be sure to practice that with the arm restraints before going to tech.

I did get some great experience talking with GM, Multimac, Rivian, Honda/Acura, and Dassault Systemes. Tesla and Ford were also in attendance, so there is an amazing opportunity to network and learn about the automotive industry. I would say this opportunity is the best you'll get in college to talk to some real recruiters. I gave my information to some of them and they actually reached out to me, so definitely go to comp. I will say that they'll ask you some hard questions though, so come prepared with your resume and a mental list of everything you did for the team (all the parts designed/manufactured, all the design decisions you made, etc.). That information will also help you immensely during the design presentation with the judges. They'll grill you about what material you selected for your chassis and why, why you chose the impact attenuator you did, why your suspension is tuned the way it is, why you do or don't have an aero package, etc. so it's best to have that information readily available (in the form of posters and physical charts if you can, laptop screens only go so far). Comp is also just a lot of fun too because you get to spend time with the people you've been working with for so long. I feel like I got to know everyone much better at comp and it made me wish I had gotten to know them sooner though, so when AER plans team-building activities and events, make sure to go! The more, the merrier.


Juan Rojas
Going into this competition, I was genuinely nervous. This had been a car 3 years in the making and as the sole team member who had been to the previous competition, I knew it would be a lot of information for all of my teammates. But then again, we had been working on this car all year. We knew this car like the back of our hands. There were many challenges along the way such as sponsorships, time, and most importantly people. We realized that having only 9 people attend our competition would be a point of concern. It was clear when we arrived that we did not have many advantages on our side such as competition location but we were prepared to face whatever challenge came our way.

Each day we were at the racetrack in Michigan, we were pushed to our limits physically and mentally through 100 degree weather and preparation for design reviews. We took each step minute by minute and time went a lot faster than anticipated. When we spoke to the judges, they were understanding of our team and our background. They understood that this vehicle was carried over from 2020 and gave us insightful feedback on not just the car but on the team as a whole and taught us how to operate efficiently. In the meantime, companies like Honda, Tesla, and Rivian were hosting booths and I know that people took the opportunity to connect with them and some of our members even got interviews.

Overall the experience will be something I will not forget. It may not have gone the way I expected but nothing in life ever does. I am just glad I was able to be a part of this journey.


Shaunt Malloian
I've been on the team for a total of 2 years working and improving upon the energy storage system for Aztec Electric Racing. Being a recent graduate with a B.S. in Mechanical Engineering I only had a little experience in electrical in terms of electronics and high voltage systems. When I first joined the team there were no previous members that worked on the energy storage system due to the pandemic in which all members within the system graduated. This caused a major setback for the knowledge transfer toward new members. There was some documentation for the system but the complexity and amount of components within the system caused some time to understand the design choices previous members selected and understand the system fully.

For the energy storage system, the design was carried over from previous graduating team members that manufactured an accumulator in 2019. There were a few reasons that the design was carried over such as the labor hours researching and manufacturing the system was extensive. Also, the cost of manufacturing another design would be expensive as well. Furthermore, there were not enough team members to fully design another accumulator which made the team focus on verifying the carried-over accumulator meets all FSAE rules. There was a lot of validation and hands-on experience within the energy storage system.

One is validating that all design choices that were made were FSAE rule compliant whereas there were a few that was not rule-compliant. This made team members troubleshoot and find alternatives to resolve the issues in order to make those issues rule-compliant. I personally had a lot of hands-on experience whether that be validating electronic components such as the voltage and temperature monitoring systems, towards wiring low and high voltage circuit boards.

I had the opportunity to attend the Formula SAE competition located in Michigan in June of 2022. Going to the competition, my goal was to pass mechanical and electrical technical inspections. Teams that were able to pass all technical inspections were able to participate in dynamic racing events such as acceleration, skid pad, autocross, and endurance.

Each day during the competition all 9 team members were working together and pushed their limits with the 100 degrees of weather on-site in order to resolve and troubleshoot issues to pass mechanical and electrical technical inspections. Unfortunately, our team was not able to pass the rigorous inspections. However, a lot of team members including myself spoke with other universities and teams about their race vehicle design choices. This was crucial as learning from other universities lessons learned that they have experience can be applied to the next vehicle design considerations.

During the event, the team was able to present the entire race vehicle during design review to design judges who work in the automotive industry such as Tesla and General Motors. This part of the event was crucial as each member explained design choices within their system and learn crucial feedback and considerations from judges who worked in the industry with experience. A lot of different sponsors attended the event in which I was able to connect with Rivian, Honda, Dassault Systemes, MathWorks, Multimac, and General Motors.

Overall, I was happy to have the opportunity to join the team and attend the competition event. I've learned more mechanical and electrical skills that I can apply to new future projects. Even though our team was not able to compete at the competition this year, I learned valuable lessons learned by talking to design judges who worked in the automotive industry and other team universities these lessons can be passed on to the next year's team race vehicle.

I joined AER's energy storage system during the spring of 2021, and the following semester I became president of the club. I was barely in the club or really aware of the car's systems upon taking the role, but I had to lead the team towards a successful competition season in SAE Michigan 2022. What I qualified as a success was: 'finishing every dynamic event' since that would mean we passed inspection and designed a functioning electric vehicle.

Unfortunately, we weren't able to accomplish our goal; but this experience has brought me many engineering and networking opportunities that were never available in my engineering curriculum. As to explain why our club wasn't able to achieve our goal, I would say the biggest reason was documentation. I would like to preface that our club is entirely run independently by students for its designs, prototyping, manufacturing and testing of the electric vehicle. I have the unique perspective of both being a brand new member and heading the executive responsibilities for this club; at the same time. In fact, the entire executive branch of AER were doing their jobs for the first time.
There were many examples in the past year in which I would discover a system that was designed but not implemented into the car yet; whether they be a pcb, aero package, or mount tabs. There's never a manual for these designs, and because of that a problem at point C isn't manifested until point A and point B are dealt with. This cycle repeated itself until the team ran out of time.

I was aware that our club faced a slim chance of success when we departed for Michigan, but I believe the experience would be worth it regardless. Engineering is a very iterative process, and if you're going to fail then you should at least get some feedback from industry experts. The specs of our accumulator was max energy output of 5 kWh, but the judges stated that of the car's they reviewed they were seeing upwards of 9-12 kWh. My judge for the accumulator was an industry expert from Tesla, he taught me the value of battery pack modeling and testing. Basically, before our club redesigns the accumulator, we should model the net resistance that occurs between all conductive members connecting the batteries in series as that will affect the energy output. In addition, they said to design the accumulator structure around the wiring harness rather than after manufacturing.

After the design review at the competition, I was able to walk around and talk to sponsors. I added some people to my linkedin: including the recruiters from Honda and Rivian, I was even able to get an interview from the Tesla recruiters. They said that they value anybody that has a background in these formula racing teams, as the environment and experience of being in this club is similar to the industry: you're constantly facing new problems and learning new ways to solve them. - Clint Panian
Moving forward in 2022-2023, Aztec Racing (AR) and Aztec Electric Racing (AER) will be merging into one team to support the electric vehicle endeavor. This upcoming year, we anticipate having a team of 20 students to help design and build the next electric vehicle from SDSU. More details about the upcoming vehicle to come soon.