SDSU Civil Engineering Student's Day in the Life in Homecoming Court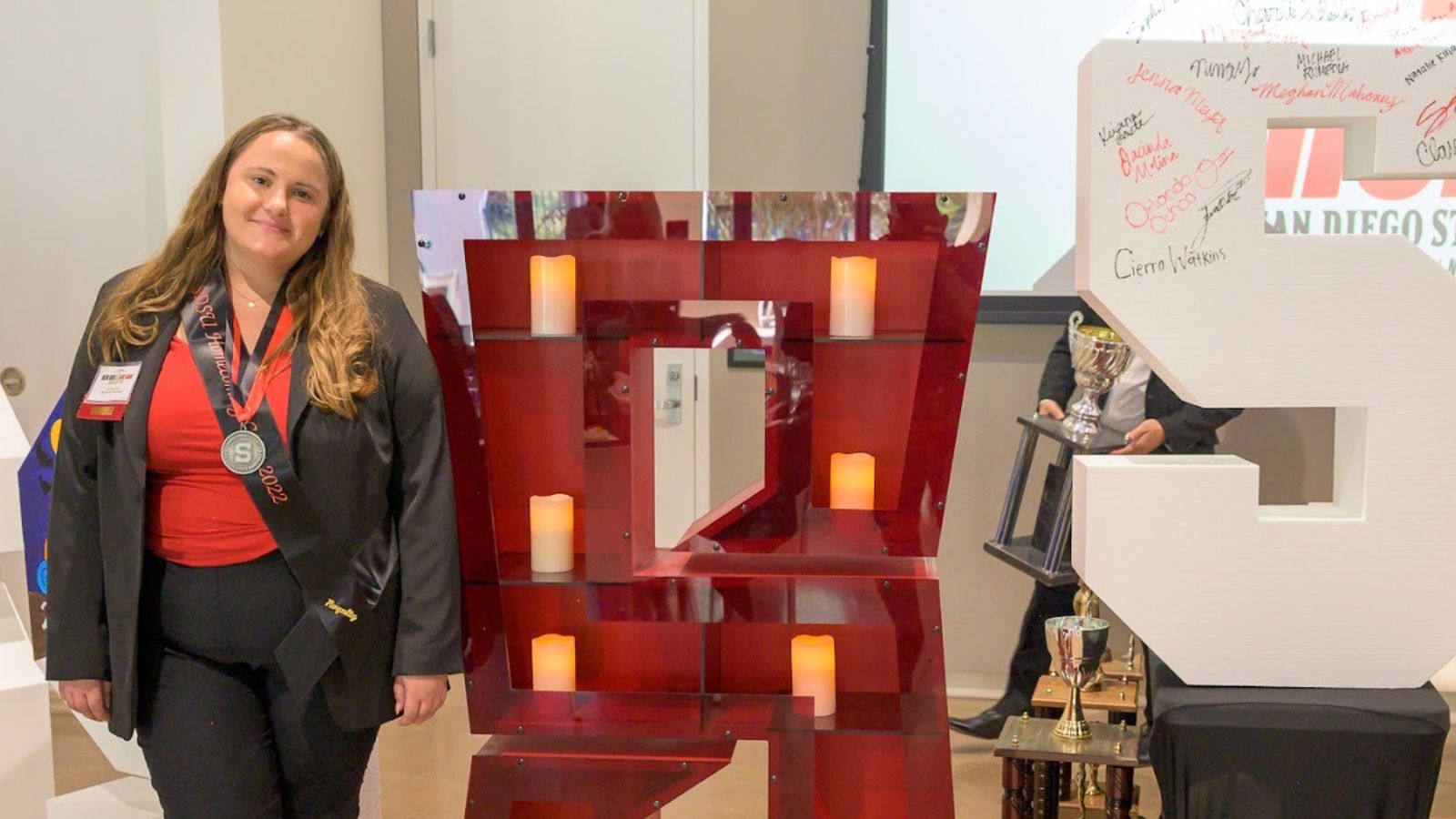 A Day in the Life on Homecoming Court: Civil engineering student Claudia Beaven shares her experience as part of SDSU's 2022 Homecoming Court. View full photo album provided by Beaven here.
My name is Claudia Beaven and I am a third-year civil engineering student with a minor in honors interdisciplinary studies from Los Angeles, California. At SDSU I am involved with Delta Beta Tau, The Glazer Center for Leadership and Service, Chi Epsilon, ASCE, Challah for Hunger, and work at Student Life and Leadership as an events assistant.
I was on this year's SDSU Homecoming Court as the College of Engineering representative. The SDSU homecoming court works to highlight outstanding student leaders who embody the university's goals and values. To be picked for homecoming court, eligible students apply and fill out a series of questions as well as a proposal for a community-wide service event. I applied to homecoming court in hopes to connect with other student leaders and serve as a representative of the organization that has been so impactful during my time at SDSU, Delta Beta Tau.
I was introduced to Homecoming Court during an Aztec Unity Project, which is a two-day service learning event, and then decided that I would go ahead and apply. The homecoming court participates in an Aztec Unity project and I wanted to be able to participate as this year's project was at a horse therapy center for disabled individuals.
At the homecoming court announcement event, I was thrilled to join 9 other student leaders from different backgrounds and organizations and that is where my homecoming court journey began.
Here is a day in the life of a Homecoming Court Member on Homecoming Day:
12:00 pm: We all met at Tula Community Center to have a Homecoming Lunch which included recognition of the homecoming court, homecoming committee, homecoming traditions, alumni, and outstanding student organizations. As a member of the court, I participated in the tradition of "lighting up the S" with candles, signed my name on an S statue, and was awarded a medal.
2:00 pm: we all headed to the student union to change into our homecoming game attire which consisted of tuxedos and formal dresses.
3:00 pm: We hopped on the trolley and made our way to Snapdragon Stadium. Once at the stadium, we made our way to our seats at the 50-yard line and patiently waited for halftime.
5:00 pm: Once it was almost halftime we made our way down to the field and lined up. After the band and other performances, we were introduced on the stadium screens and cheered with excitement as each homecoming court member was announced. Once we were all introduced, the announcement of this year's homecoming royals began. After a drumroll, my amazing peers, Cierra and Nina were announced as this year's homecoming royals.
The day consisted of pride and joy for SDSU as well as a million pictures documenting the day's events. It was a great experience to not only be recognized for my involvement at SDSU but be able to celebrate other amazing student leaders who I look up to.
My time at SDSU has been filled with amazing opportunities and organizations including my involvement with the Homecoming Court. Starting college classes online was challenging but being welcomed into communities like Delta Beta Tau and Alpha Gamma Delta helped me find my place at SDSU. Taking on a leadership role in Delta Beta Tau during my sophomore year was the most rewarding and transformative experience and was the start of my leadership journey.
Since then, I have developed leadership skills through my involvement with the Glazer Center for Leadership and Service where I am able to present leadership workshops, attend professional development events, and volunteer with my community.
Being in the College of Engineering has also presented some challenges, but being able to connect with faculty and other students have helped me be successful. My advisor helped me realize what path to take as far as majors, which has led me to be a very happy civil engineering student. I also have supportive professors that are always willing to help through additional office hours, career advice, and referrals to internships and job opportunities.
I have found two amazing communities within civil engineering, ASCE and Chi Epsilon which I am now leaning on for professional development and the advancement of my civil engineering career. I am grateful to be surrounded by other students who strive for academic excellence and are working towards successful careers. Everyone I have been able to meet and connect with during my time at SDSU has helped shape me as a student, leader, and person.
I am so grateful for everything I have learned, been able to participate in, and been able to accomplish so far at SDSU and I am looking forward to continuing to grow over the next few semesters I have left as an SDSU student.

Interview lightly edited for clarity and brevity.