Summer Internship: A Day in the Life of Aina Narvasa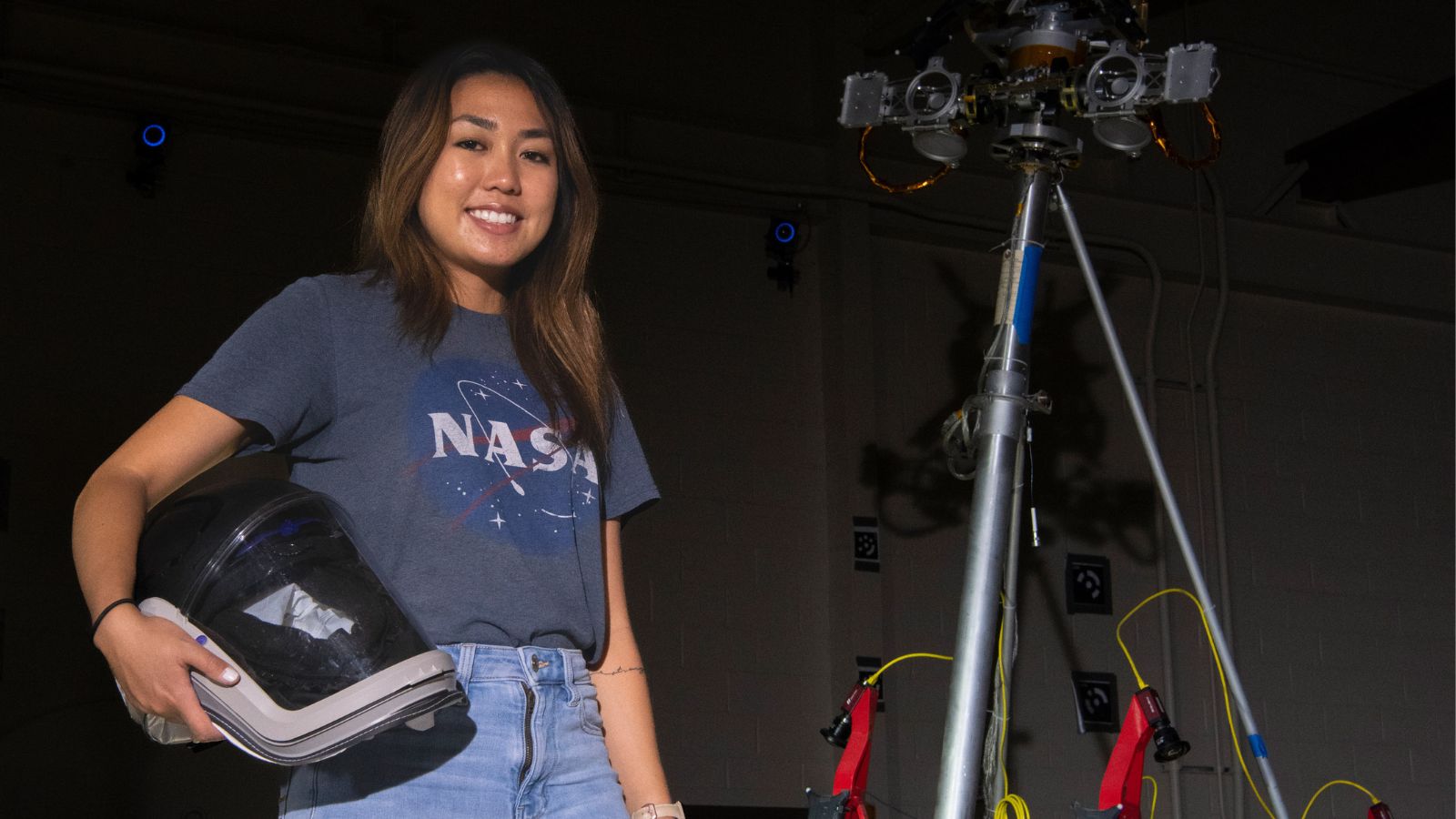 Hi! My name is Aina Narvasa (she/her) and I am an upcoming second year Civil - Environmental Engineering Master's student this Fall 2022 at San Diego State University.

I am currently a summer intern at National Aeronautics and Space Administration (NASA) Glenn Research Center in Cleveland, Ohio. Specifically, I am working at the mTRAX Planetary Exploration Labs to assist on soil (lunar simulant called GRC-3) preparation, data collection, and/or experimentation for three projects: (1) mobility testing of the latest VIPER (Volatiles Investigating Polar Exploration Rover) prototype, (2) CUBEvac (small vacuum chamber) and (3) for the Excavation Lab soil tests.

I am able to receive this amazing opportunity through working with my mentor, Dr. Marta Miletic, as her graduate research assistant on a NASA funded project in collaboration with NMSU. Dr. Douglas Cortes, another mentor, and MUREP (Minority University Research and Education Project) made it possible for me to receive this internship at NASA GRC. I was also required to complete the application process through the NASA gateway portal and attach all the information necessary.

Here's a day in the life of a civil engineer/research assistant at NASA:

7 - 8 am: Wake-up, get ready, eat breakfast and most importantly grab a cup of coffee!
8:30 am: Drive to work, swipe my badge to enter the facility. Enter the office where I meet with my mentor to briefly go over what our day will look like since there are usually different tasks to be done every day.
10 am: Check emails for meetings and other important announcements. There are usually meetings going on at this time or available tours of other labs in the facility that I can go to.
For instance, I was able to attend a meeting about project updates, virtual or in-person tours of the facility at NASA Glenn Research Center, career advancement opportunities, and/or chat with different engineers in the building.'

One of my favorite tours was going to the Armstrong Test Facility in Sandusky, Ohio where they have one of the largest state-of-the-art vacuum chambers for space environment simulations.
11 am: My peer group meetings usually happen at this time every Wednesday to have the chance to network and get to know other interns who are working at a different building and share our projects.
12 pm: I usually take my lunch at this time. I would either go with my mentor and other co-workers to get to know them or talk about any work related things that can help either their project or our project. If I am not out with my mentor, I would grab lunch with other interns to network and make some friends.
1 - 3 pm: Depending on what task needs to be done, we will continue it at this time.
As an example, during VIPER mobility testing (first 3 weeks of my internship) we usually continue with soil terrain preparation where I help shape and place craters and rocks for the rover to traverse in and collect data. This goes on until all planned test runs are completed.
After working with the rover, I now spend my time documenting soil preparation procedures, reading literature reviews, and creating a data evaluation tool.
3 - 5 pm: Clean up the workstation/lab and wrap-up anything that can be done to continue again the next day.

The highlight of my internship so far is to be able to witness and work with the current VIPER 3.0 prototype and be a part of the successful mobility testing. This experience has been both fun and rewarding because I was able to help set up the mixed terrain that was utilized for official data collection and use it to improve the rover before it can explore the moon. I have worked with such amazing engineers and even had the chance to meet both the director of NASA GRC and Ames during the first month of my internship in person!

As a civil engineering student at SDSU, I am tasked to do extensive research of the lunar regolith (soil) and the possible stabilizing techniques that can be used to build a launching and landing pad (LLP) in-situ or on the moon. During my internship at NASA, I had the opportunity to work with engineers that are conducting important research related to NASA's ISRU (In-Situ Research Utilization) mission. I was able to help with the soil preparation procedures and utilize the knowledge I gained from working on my thesis/research for the past year at SDSU.

As a NASA intern I am able to work with and get to know different scientists and engineers that are passionate about their work and interest in space exploration. Most importantly, my NASA mentor, Erin Rezich, who is the SLOPE Lab manager has been a great guide on teaching me all of the information that I need and ensuring that I am learning valuable tools that I can apply to my field of study and career. This internship continually inspired me to develop the same passion for the advancement of space technology and will pursue a career in the industry.

Photos courtesy of NASA. View all photos here.