Dr. Gustaaf Jacobs Earns DOE Award to Research Efficient Hydrogen Gas Turbines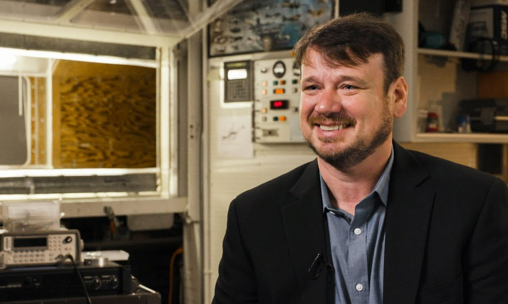 Professor Gustaaf Jacobs' is creating a modeling framework to increase the performance and reliability of hydrogen power and to advance zero-emissions technology.
Aerospace Engineering professor Gustaaf Jacobs has earned a $750,000 award from the Department of Energy to increase the performance and reliability of hydrogen power and to advance zero-emissions technology.
Jacob's proposal is one of eight projects supported by the DOE Office of Fossil Energy's "University Turbines Systems Research (USTR)" program.
The project, titled, "Development of Design Practices for Additively Manufactured Micro-Mix Hydrogen Fueled Turbine Combustors with High-Fidelity Simulation Analysis, Reduced Models and Testing," is partnered and co-funded by Solar Turbines, who is using their lab. The project proposes a collaborative university/original equipment manufacturer (OEM) simulation and test program to advance the design of additively manufactured (AM) hydrogen micromix turbine combustors in industrial gas turbines. Because of the combined novelty of hydrogen fuels and AM, no good practice exists for OEM engineers to design robust AM hydrogen combustors. This application aims to develop a generalized modeling framework to predict the effect of geometric design and manufacturing anomalies of hydrogen fuel injectors on mixing, flow rates, pressure losses, heat transfer and flame stability.
Project collaborators include SDSU Aerospace Engineering professor Pavel Popov, who is working on the modeling of combustion, and SDSU Engineering PhD student Priyank Dhyani.
"The UTSR Program conducts cutting-edge research with the nation's universities to increase the efficiency and performance of gas turbines while also reducing emissions. With renewed interest in the use of hydrogen, a clean-burning fuel, for turbine-based electricity generation, these projects will advance hydrogen as a gas turbine fuel to help achieve the decarbonization priorities of the Biden Administration, including enabling economy-wide net-zero emissions by 2050, while ensuring affordable, reliable energy supplies for U.S. economic growth", says the Department of Energy regarding the need for the projects.
Read the Department of Energy's press release here and the description of all university projects here.