SDSU Team HADES Successfully Completes NASA Robotic Mining Competition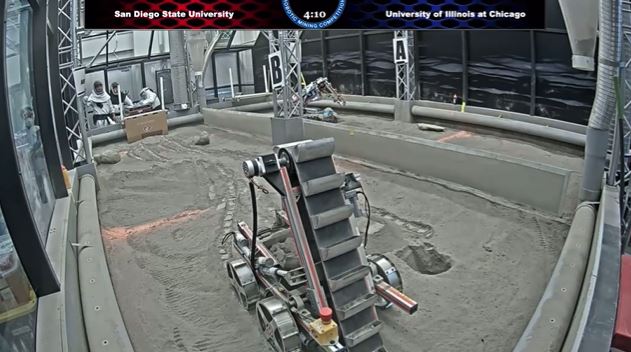 Our SDSU Team HADES successfully completed and won awards at the NASA Robotic Mining Competition at Kennedy Space Center in Florida! This competition is about designing a robot that can mine icy regolith on the moon. Our best performance was at the end of the second day, and you can see the robot running in this NASA video (our team starts their final run at 3:40:00 into this video). The students earned the following awards:
3rd Place - Presentation and Demonstration
NOVA Award for Stellar Systems Engineering Performance
We received cheers and many compliments at the completion of our run. The NASA staff and judges also shared that our accomplishments were very impressive, especially considering we are a "first year team".
Our talented team of 5 ME and 5 ECE students (now alumni) coupled with our Senior Design Capstone Program framework of Systems Engineering and Project Management is why we accomplished this in just 9 months! Thank you to NASA for this opportunity.
Watch Team HADES compete in a pre-recorded live video here.
View photo album of the event here.
View the Team HADES Proof of Life video, a formal submission to NASA, here.
View the HADES Design Day 2022 Video here.