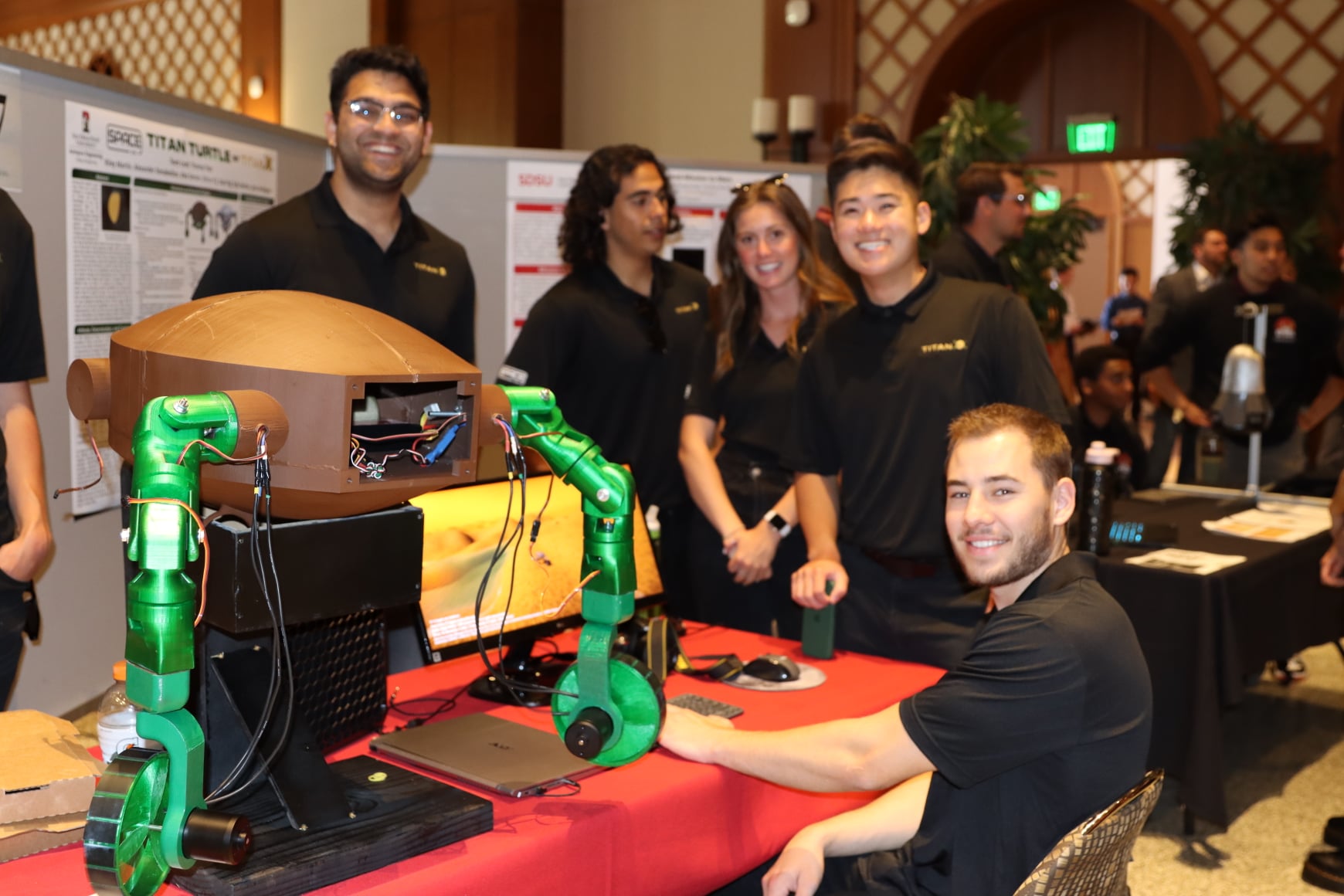 We thank industry members, alumni, families, our San Diego State University community, and special guests Provost Salvador Hector Ochoa and President Adela de la Torre for attending Senior Design Day.

View photos from the event here.
Watch video of the event here.

Read Quotes from Senior Student Participants
"Our team had a great time at Design Day! Our booth was definitely a success, individuals were congregating around our table for the entire duration of the event watching the demonstration. Many external vendors and sponsors joined our booth, and our team enjoyed speaking with Masimo as this was the first time they saw the system in person."

"Senior Design Day was a huge success. We talked to many people including SDSU President and SDSU Provost, Dr. Abraham, the dean of the college of engineering and various friends, family, and coworkers that stopped by. We also got a visit from Lenny Barbod and various College of Mechanical Engineering Advisors throughout the event as well."

"Overall, our project drew in far more visitors than we had originally expected. Design day was a fun and enjoyable experience for all of us."

"Design Day was an incredible experience for the entire team and we thank the senior design professors for all of the work leading up to this point. The team felt like there was an amazing variety of guests visiting our table."

"What an amazing day to celebrate all the work conducted over the past nine months! Design Day went fantastically for our team! People really enjoyed seeing the topology section of our fuselage, being able to hold the printed sample airfoil piece, watch the ailerons/rudder/elevator move, and watch the 3D printer print a part! A huge lesson we learned through Design Day was the importance of communication. Design Day is all about summarizing nine months of technical engineering work into easy-to-understand, exciting conversation with a complete stranger! It was really great to practice our pitch and to quickly explain our project to people and to address frequently asked questions."

"Design Day went very well for our team. The news interview went well and will give good exposure for the project, Vander, and senior design. Our sponsor Luciano and advisor Victor both stopped by and were very impressed and pleased with the final product. Some other notable people that were presented to were Dusty Fisk from D&K Engineering, Matthew Fredrickson from Whiting-Turner, and President Adele de la Torre.There were a lot more baseball fans and people interested in the system than we were anticipating but we got a lot of experience giving both high and low level explanations of the system during the day."

"Design Day was great! Many people stopped by to ask us about the project to the point where we were out of breath. The real challenge was to communicate the complexity of the project to people without rambling at times. However, when we did dive deeper in our explanation the more impressed the person would be."

"Team BCB was very happy with the overall presentation of our system, as well as the demonstrations shown. We were positively overwhelmed by the number of individuals interested in learning about our system. We received technical questions that made us consider our design choices, to simple questions about what a type of sensor was. We were humbled by the individuals that had marked in their catalog to specifically visit our table for the event."

"The design day event was definitely a memorable experience for the team. Preparations for our project table did not take long so we were supplied with plenty of time to interact with other teams before the event began and had fun discussing the turn of events leading up to design day. During the event many of our team's families & friends showed up in support which gave us the opportunity to showcase and demonstrate the nine months of work and what it had all accumulated too."

"For the Hiking Powered Prosthetic team and I, design day was a great time. It was very fulfilling to see the interest in our work from students, faculty, sponsors, and our own peers. It was also a great surprise to see President Adela de la Torre stop by our table and take a direct interest in the project. Although I did not catch his name, a member of her entourage took an even greater interest in the prosthetic and stayed behind after his colleagues had left."