Summer Internship: Q&A with Andrew Preisler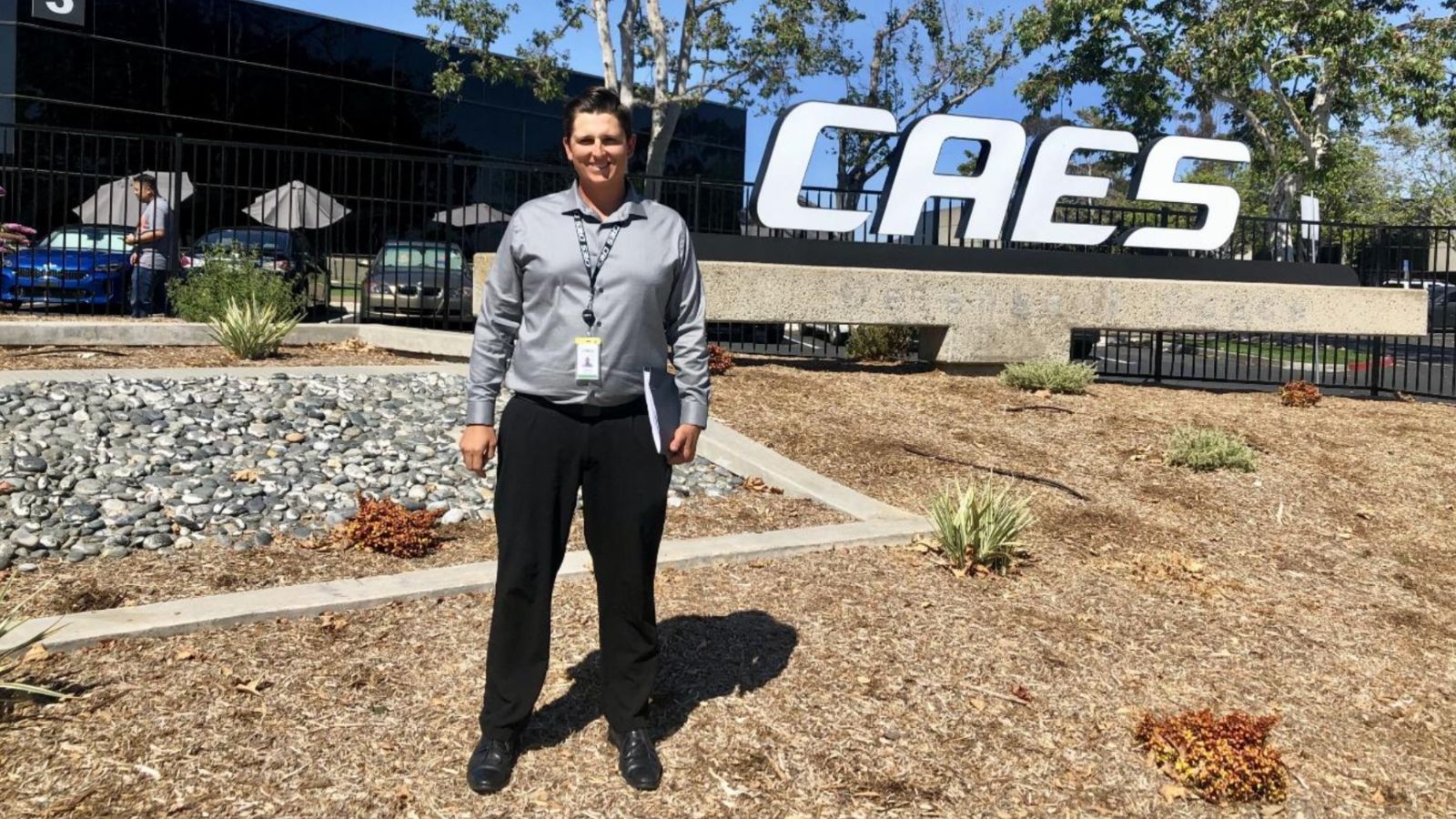 Andrew Preisler is a rising senior mechanical engineering student at SDSU who is spending the summer at CAES (Cobham Advanced Electronic Solutions) as a Mechanical Engineering Intern. CAES is an electronics manufacturer and tier two supplier of RF, microwave, and millimeter wave solutions.
What is your name and the degree program you're in?
My name is Andrew Preisler and I am an incoming senior working towards my bachelor's degree in mechanical engineering.
Where are you interning this summer?
This summer I am interning full-time at CAES (Cobham Advanced Electronic Solutions) as a "Mechanical Engineering Intern". CAES is an electronics manufacturer and tier two supplier of RF, microwave, and millimeter wave solutions to high-profile projects such as the F-35, AMDR/SPY-6, and the Mars Rover to name a few. They currently operate in fourteen locations across the United States, Mexico, and Sweden.
What was the process of landing this internship?
I heard about this internship from a peer in Aztec Baja that had participated in it the summer prior. Because we had experience working together, he contacted his former supervisor to put in a good recommendation. He suggested submitting my application and portfolio online and HR reached out to set up an on-site interview shortly after.
The interview itself was a unique experience as while there were some technical questions asked, it was mostly a conversation about my engineering related hobbies and some of the current projects at CAES. I later learned that a big part of my supervisor's interview style is to discover how candidates interact with the team.
After waiting a few more weeks for them to interview other candidates and make their final decisions, (which felt exceptionally longer with anticipation) I was pleased to receive an offer from the company.
What kinds of things do you work on in an average day or in an average week?
The types of tasks I perform in an average week align with the responsibilities of an entry-level mechanical engineer and fall into two main areas.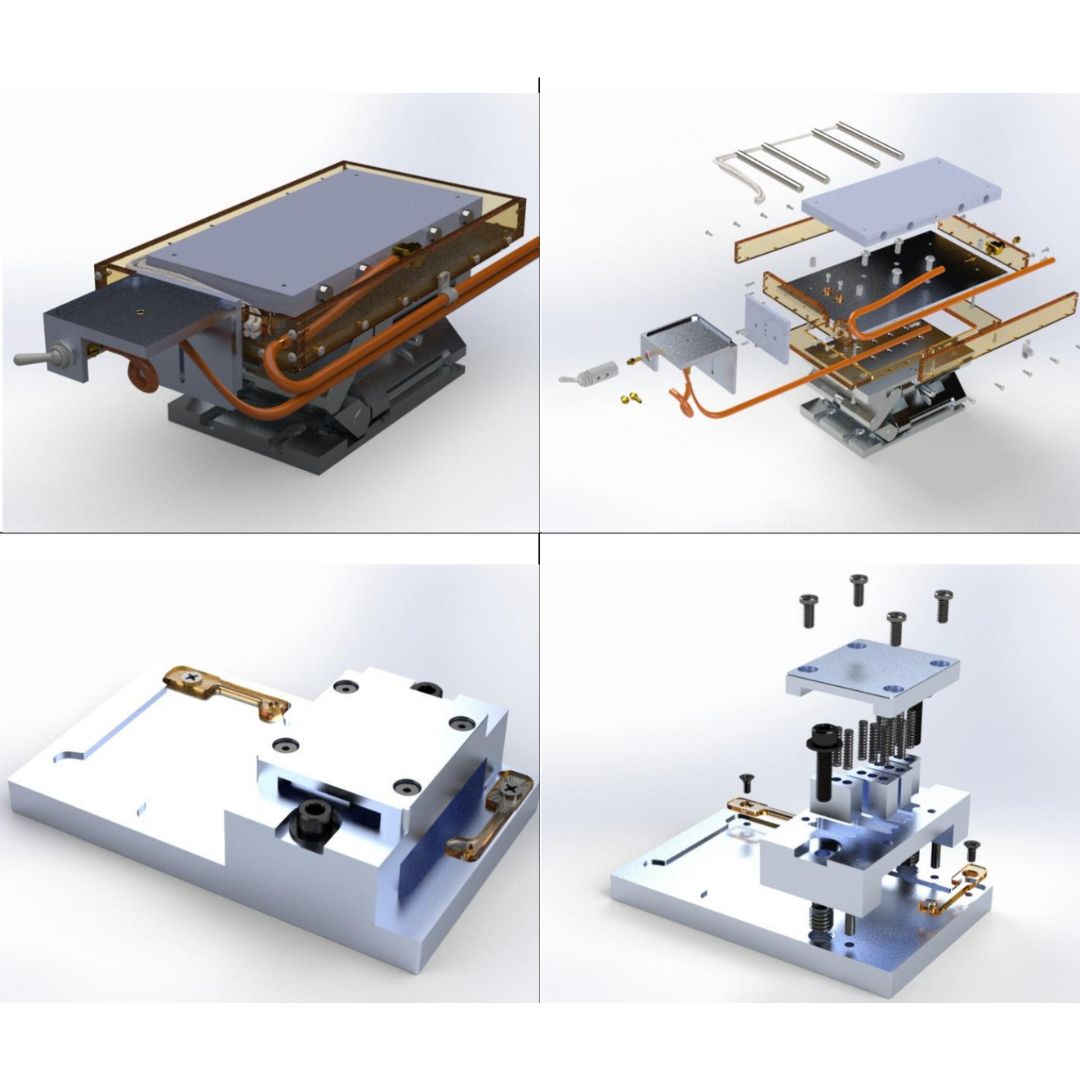 Top: This workstation required a reworking of the drawings and is used to suction down and preheat circuit boards for soldering. Bottom: The retaining finger and spring forces were calculated for this fixture to apply a constant pressure to components being attached with oven-cured epoxy sheets.
The primary scope of my work is to provide engineering support for new tooling design as well as existing products. This is done by reviewing and editing tooling and packaging layouts using 2D and 3D CAD software and interfacing/directing machinists, assemblers, technicians, and suppliers to execute hardware builds and testing.
The second area of my work includes creating, checking, and releasing formal engineering documentation like ECO's and Machine Shop Travelers. In addition, HR holds a weekly roundtable meeting for all of the interns company-wide (over twenty interns). In these meetings, representatives from various departments go over their individual roles and explain how they are involved in the overall operation.
What has been a highlight(s) for you in the internship so far?
A highlight for me so far has been conducting a simulated vibration analysis on a new circuit board material to find its resonant frequencies and then validating the test results in the company's on-site environmental lab. An interesting fact about CAES is that they own one of only two environmental test labs in all of San Diego County. With it, the company is able to perform thermal, shock, vibration, and leak testing on almost all of their components to ensure they meet or surpass the unique and often stringent requirements of their customers.
How does the internship connect to your other experiences as an SDSU student in and outside of the classroom?
In almost every project at my internship I find myself drawing upon my academic studies from SDSU. Whether it is solid modeling techniques from ME 190 or calculating material conditions with formulas from ME 304, it is great to have a practical outlet for the things I learned in class.
Outside of class, my club involvement with Aztec Baja has helped me develop useful skills that correlate with my current work as well. Designing for manufacturability, attention to detail, and solving problems on the fly are just a few of the things required to be successful on an engineering team like Baja and now I get to practice them every day at CAES.
How do you see this internship influencing the next steps in your career?
This internship is influencing the next steps of my career by introducing me to the electronics manufacturing and defense industries as well as allowing me to network with all types of engineers (some with decades of experience). All in all, I feel very thankful to have been offered this position and I am extremely excited to see where it takes me after graduation.