Summer Internship: A Day in the Life of Carlos Guerrero Valdez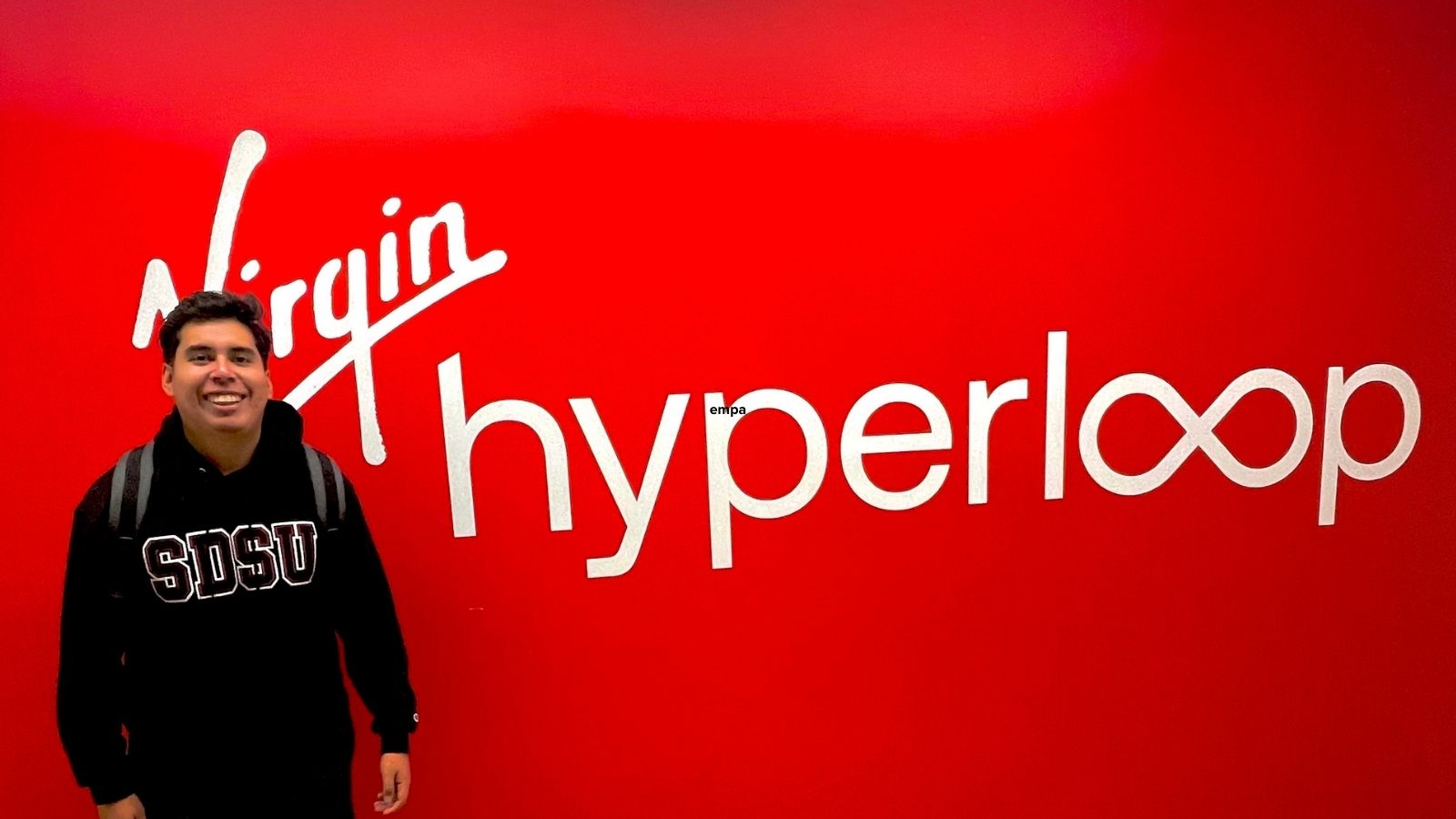 Carlos Guerrero Valdez is an Aerospace Engineering major at SDSU. Carlos is currently spending his summer interning on the Virgin Hyperloop, a company making sustainable cargo transport a reality.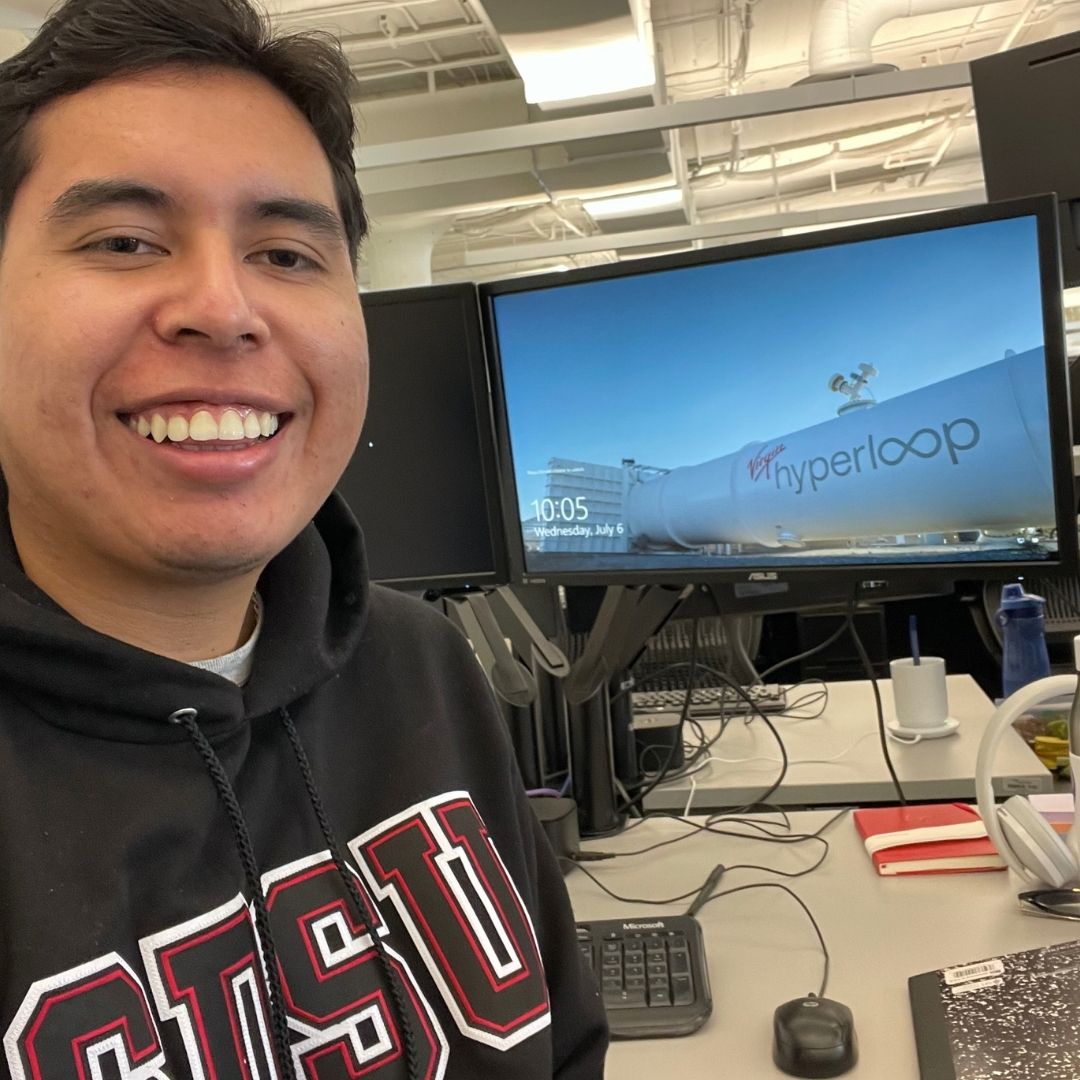 My name is Carlos Guerrero Valdez (he/him). I am a senior aerospace engineering student who is interning in the mechanical & thermal engineering department for the Virgin Hyperloop.
Currently, I am involved in the Rocket Project at SDSU, a student-led organization that designs, builds, and launches liquid and solid rockets. Through Rocket Project, I was awarded a scholarship by Virgin Galactic (VG) due to my participation in the club and outside research with SDSU faculty in the AE department. This scholarship also had a mentor program where I had the chance to meet many employees within the company. This helped me connect with Katie Westley, the associate manager at VH who connected me with Virgin Hyperloop, who were looking for interns. After applying, I got a phone call and then the opportunity to interview with three different managers. At the end of this process, Rachel Ozer, a VH mechanical department manager, offered me an internship position!
My days in my internship are unique but that is something that I like to intern in this company. To set an example:
9:00 am: I clock-in and start my shift to work checking email and looking on JIRA to see my task for the week.
10:00 am: I have my weekly meeting with the support systems team to check on new goals, updates and failures of the week.
11:00 am: I have a meeting with my manager in the mechanical department for any updates on tasks assigned.
12 pm: Lunch!
1:00 pm: I work on assigned tasks, like schematics on the thermal management system and release documents that were approved in the meetings.
2:00pm: My meeting with the cargo pilot integration team to discuss our progress for the final product.
3:00 pm: Talk with my mentor, Adam Silver, who serves as the leading engineer in the thermodynamics department. Together, we go over any suggestions and updates about my work and discuss short-term and long-term goals. I also start doing research on my tasks.
5:00 pm: Clock out! Usually on Thursdays the company has a social event, which is always fun.
I see a lot of similarities between my work at VH and my work with SDSU Rocket Project in that you need to communicate with multiple other departments and moving parts to make decisions about a shared project. Also, my research at SDSU with Dr. Gustaaf Jacobs helped me do research on my own and basic fundamentals of CFD and mechanical design.
I see my internship as a great opportunity to evolve my technical and soft skills to apply in my last year at SDSU and any other co-op or job opportunities. I am getting experience outside of the classroom that will help me to have a more hands-on idea of what to expect in my future as an engineer.
So far a highlight of my internship has been seeing how a company works and how similar this work is to my research activities and clubs at SDSU. Also, I love to see how broad the VH mechanical/aerospace engineering department is - in the future, I could work on projects that involve mechanical design, aerodynamics, and even thermal systems all at once. This internship is helping me find my true passion as an aerospace engineer.
Edited for clarity. View Carlos' feature on Virgin Hyperloop's socials here.