Summer Internship: A Day in the Life of Elias Enguancho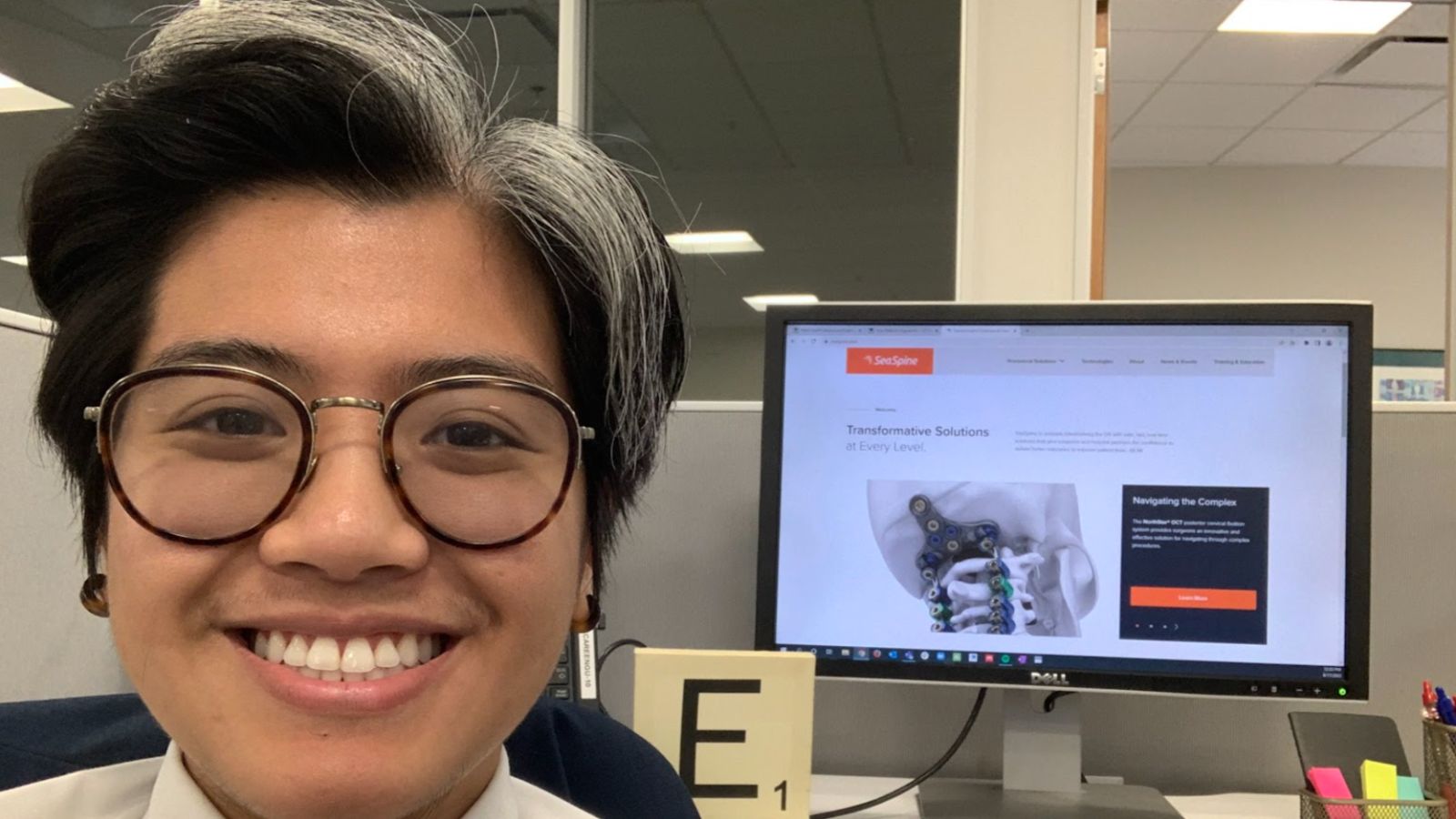 My name is Elias Malachi Enguancho, my pronouns are he/him/his, and I'm an incoming senior for a BS in Mechanical Engineering with a Bioengineering Emphasis and Minor in Chemistry.
This summer I'm interning at SeaSpine, a medical device company that designs spinal implants, instrumentations, and bone graft substitutes (orthobiologics). My official title this summer is "Quality Engineering Intern."
I first found out about it from a friend at SDSU who interned here last summer and is now a full-time engineer with the company. I've always had a huge interest in orthopedics so I knew right away I wanted to apply. A few months later, SDSU announced the employers they were inviting to the Virtual Career Fair and SeaSpine happened to be on that list. To get my name out there and talk with someone inside the company, I reserved a 1:1 meeting with SeaSpine during the Virtual Career Fair on Handshake. This went really well and we ended up exchanging emails and connecting on LinkedIn.
After a few months, SeaSpine listed their intern postings on their career website as well as LinkedIn. Immediately, I jumped to apply to all the postings I found interest in: R&D, testing, product design, product marketing, and quality. I ended using the internal connection I made earlier used as a referral! After a month or two, I received a few Zoom interview invites from different departments. Ultimately, I really took a liking to what the hiring managers in Quality had to say about the job. Luckily, they liked me too and extended an offer (which I excitedly took!).
Here is a typical day in the life:
The first week of the internship was what they call an "Anchor Week" where they gathered all the new interns together to attend presentations from all the different departments (e.g. Legal, Regulatory, Quality, Marketing, Product Development, Finance, Supply Chain, etc.), and also "Spine School" where we learned about the anatomy and pathology of the spine. After that first week, I started working on my department-specific projects.
7:00am - Wake up, get ready, and eat breakfast before my 30-minute commute to the office.
8:30 am - Clock in, make myself a coffee (from one of our 4 espresso machines!), and check my emails and Microsoft Teams messages.
9:00 am - Attend a 1:1 meeting with my manager in one of our beach-named rooms (e.g. Oceanside, Mission Beach, etc.) to go over tasks at hand.
9:45 am - Complete any assigned "Flex Trainings" I have which explains the duties of not only my job, but others in our cross-functional company such as Quality Control, Regulatory Affairs, Supply Chain, Product Development, etc.
12:15 pm - Have lunch with interns from other departments. We're located in Carlsbad right next to the ocean so we always eat outside with the lovely view!
1:00 pm - Attend a Zoom meeting with my Quality teammates for what we call the Material Review Board (MRB). Here is where we review cases of products that have Non-Conformance Material Reports (NCMRs). An NCMR is issued to a product when it doesn't fulfill requirement(s) during inspection (i.e. ASTM or ISO standard specifications, material roughness, alloy composition, etc). We also review any products/lots that are on hold for whatever reason such as missing a Purchase Order Number. The result of these reviews may include scrapping parts, reworking parts in-house in our machine shop, sending parts back to the supplier to rework externally, or creating a "deviation" to accept non-conforming parts if the issue is evaluated to not critically affect the product's function.
2:00 pm - Visit the inspectors in the Quality Control Room to shadow them and learn more about what their inspections entail and the documentation they perform to maintain traceability of our products and identify conformance to requirements.
3:00 pm - Work on a literature review for one of my projects which includes creating a more temperature and humidity controlled environment to store our testing gauges and fixtures in. The goal of this project is to reduce the rusting of our equipment so they maintain their true dimensions for testing purposes.
4:00 pm - Study Geometric Dimensioning & Tolerancing (GD&T) which is the system used in engineering mechanics to ensure specified fit and function of products. This system ensures our products are manufactured correctly by machinists and that our implants and instrumentation will ultimately work optimally in the operating room!
5:00 pm - Clock out and head home!
I have yet to start performing process and equipment validations, implementing process improvements such as process mapping tools and protocol writing, updating calibration requirements and procedures, generating statistical analysis reports in Minitab, drawing digital overlays in Creo, supporting New Product Introductions (NPIs), and much more! It's going to be a busy 8 more weeks but I'm excited as ever for what I have yet to learn.
The skills I use in this internship were first introduced in the classroom including statistical analysis, 3D modeling, geometric dimensioning and tolerancing, root-cause analysis, and much more. Outside of the classroom, I also work as a patient care technician on the medical/surgical unit of a hospital, using many medical devices in my work. It's been interesting and exciting to be on the other side of medical devices.
Although I just started, this internship helped me decide that I want to work as a medical device engineer for a few years after graduating, and then reevaluate if I still want to go to medical school to become a physician. Regardless, this role has provided great insight to what the medical device industry and flow of work is like, which I'm sure will be helpful for my career whether I work as an engineer or as a physician utilizing devices made by engineers.