Engineering Alumni Advisory Committee
Engineering Alumni Advisory Committee
The Engineering Alumni Advisory Committee is comprised of members who work in industry and are able to recommend solutions to issues that are facing today's Engineering graduates. The Committee plays a key role in providing feedback on curriculum and real-world insight on what the new engineering frontier will be and the type of engineers we need to train here at SDSU.

Positioning, Navigation, and Timing Service (PNT)
Programs Tech Director
Raytheon Integrated Defense Systems

Wendy Bohn
Senior Project Manager
Clark Construction Group

Systems Engineer
Northrop Grumman Corporation
Edgar Camerino
Principal, Transportation Division Manager
Rick Engineering Company

Chief, Facilities Planning and Construction
San Diego Unified School District

Senior Project Manager
Sempra LNG & Midstream

Daisy Galeana
Program Manager for Diversity, Equity & Inclusion
Solar Turbines, Inc.

Senior Project Manager, Associate Vice President
Carollo Engineers

CEO, DoD Sustainment Consultant
AeroRoot21 LLC

VDC Manager
Balfour Beatty US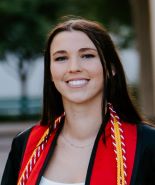 System Test and Qualification Engineer
General Atomics Aeronautical Systems