SDSU Hosts Robotics Camp 2022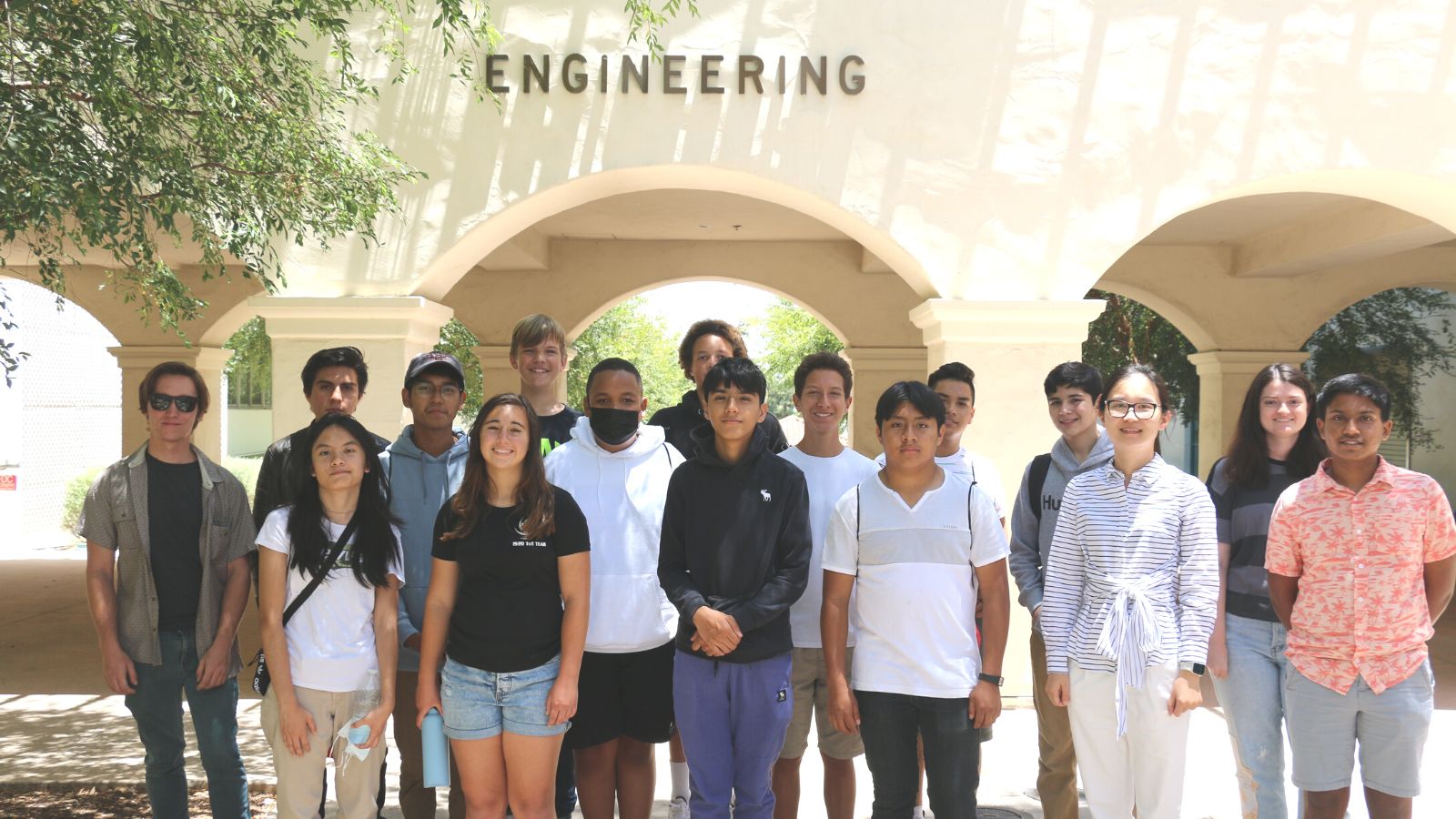 When the Department of Electrical and Computer Engineering assistant professor Junfei Xie earned her NSF CAREER Grant for her project on Networked Airborne Computing in 2021, she set goals to use some of the $550,000 award to host student educational outreach events. Since then, Xie began by hosting the 2nd CPS-IoT Week Student Design Competition on Networked Computing on the Edge.
Her latest outreach event? A Robotics Summer Camp.
Along with the funding from her CAREER Award, Xie worked with the SDSU Talent Search, a program within the Office of Community Engagement at SDSU Pre-College Institute, to put on the camp for local students highlighting her area of expertise: drones and robotics.
As one of the efforts to inspire K-12 students to pursue STEM education, this camp trains high-school students on programming, robotics, sensing and autonomy through hands-on experience. Over nine days in July, the camp hosted 14 campers from the San Diego area, the majority being underrepresented minority students or students from low-income families.
In this free camp, students were immersed into the world of robots, given tours of campus, participated in interactive activities, and more. The student campers were offered free training in different disciplines of robotics. Camp teams learned the programming language called Scratch and were able to use Scratch to create their computer games.
Using their knowledge of Scratch, campers then learned how to assemble and program a ground robot, called mbot Mega, to make it move automatically and perform line following and obstacle avoidance by using onboard sensors. They also learned how to program an aerial robot (or drone) called DJI Tello using Scratch to make it fly autonomously.
On the last day of the camp, a competition was hosted to showcase their learning outcomes on ground robot control. In this competition, students were put in teams and tasked with solving three challenging problems with increasing difficulty within about 5 hours, including a racing car, a maze, and a self-parking car.
With an audience including invited parents as well as an opening talk from department chair Chris Mi, judges evaluated their solutions and selected three winners. "What truly amazed me was how the students, with only a few hours prior to the competition, were able to write a program and then reprogram the cars to correct the errors to complete the tasks," said judge Robin Shimasaki, the Administrative Support Coordinator and Graduate and Undergraduate Program Coordinator for the Department of Electrical and Computer Engineering.
Students, parents, and administrators alike were impressed with the great success of the program: "The robotics summer camp students utilized their critical thinking and problem solving skills to build a catapult for competition, with not much more than popsicle sticks and masking tape they all created working catapults. The CoE Outreach Team and I were truly impressed with their skills," said Theresa Garcia, Assistant Dean of Engineering for Student Affairs.
On post-camp surveys, campers wrote that they were inspired by their exposure to engineering and robotics, with some even indicating that they may apply to SDSU in the future. One participant shared, "This program helped me understand that coding and robotics is difficult but not impossible and that given enough practice, I can do something I would've never thought of being able to do."
Xie shared that the event was such a success due to the support received, including from Office of Community Engagement Director Nada Stevens and Information Coordinator Jessica Sandoval, both of the of the Pre-College Institute. She also received support from undergraduate students in her lab: Melanie Weed, Drake Essick, Luiz Gonzalez Bautista, Roxana Nevarez, and Amy Gonzalez, who were supported by her NSF CAREER Grant and the SDSU STEM Pathways program. As for the future, Xie says that the future is bright.
"This was our first time offering this camp but we plan to continue our efforts in the following years."
View the full photo album here.