Bruce Urquhart and Jacque Clayton Scholarship Recipient Announced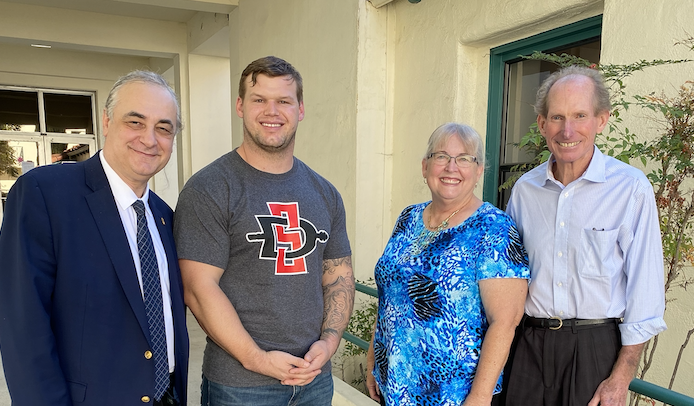 Gabriel Adkins, a Marine veteran majoring in civil engineering with almost 10 years of military service has been awarded the Bruce Urquhart and Jacque Clayton Scholarship for the 2021-2022 school year. Adkins last duty station was on Parris Island in South Carolina where he served as a drill instructor. After leaving the Marines, he served as a construction surveyor. He worked around a lot of civil engineers and that helped him choose his major. Seeing plans that they designed, he thought it was an interesting field of study. Adkins is married. His wife also served in the military and they have three children.
Urquhart and Clayton established the scholarship to support student veterans pursuing degrees in the College of Engineering. They utilized a structured pledge of annual gifts and a bequest. Urquhart is an SDSU alumnus and a College of Engineering faculty member. Both Urquhart and Clayton have backgrounds in transportation engineering, and Urquhart has been a part-time faculty member at SDSU since 1992. They have an admiration for student veterans and their excellent leadership capabilities. As a scholarship recipient herself, Clayton feels it is important to support today's student veterans.
Photo from left: Dean Eugene Olevsky, Gabriel Adkins, Jacqueline Clayton and Bruce Urquhart